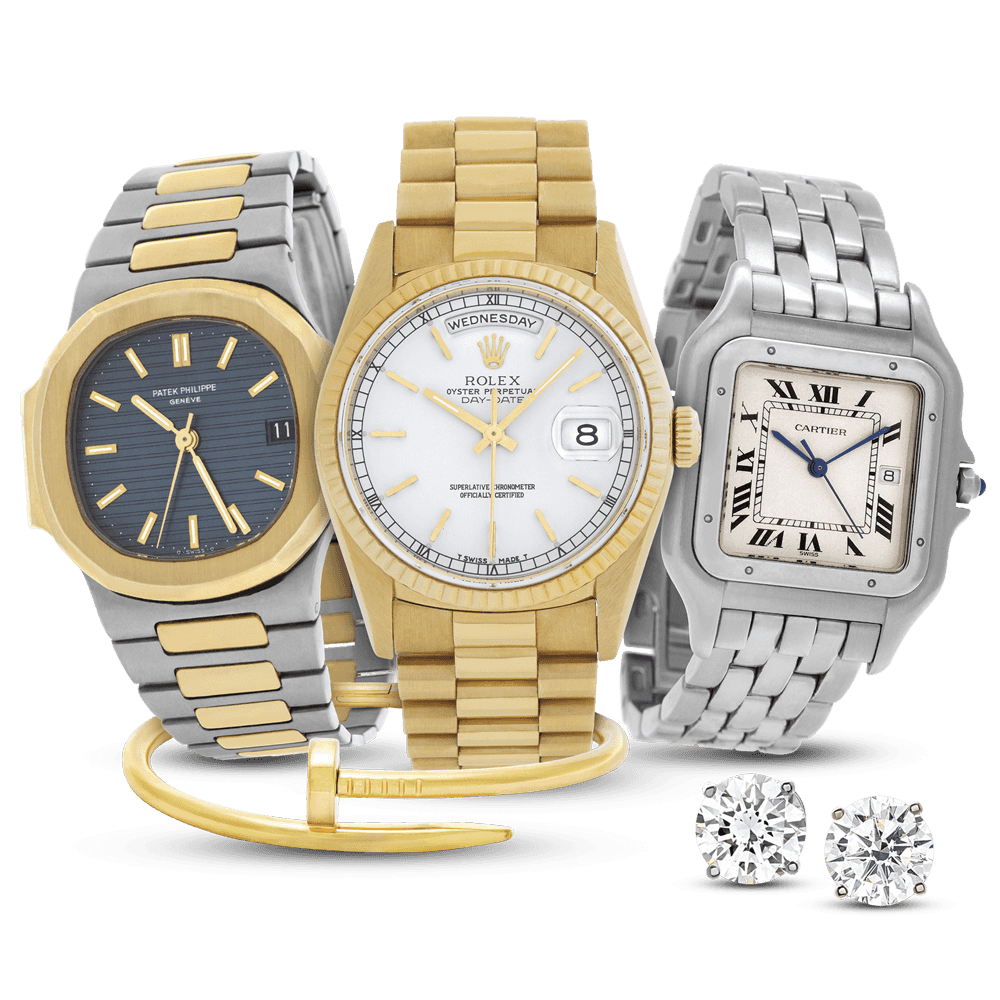 Wondering how to value a Rolex watch? How much is my Cartier or Patek Philippe watch worth?

#1 USED & PREOWNED ROLEX, CARTIER, AND PATEK PHILIPPE BUYERS SINCE 1980!
What Are You Looking To Sell?
Top watch buyer " The #1 jewelry and #1 watch buyer " in South and North Miami Beach, Aventura, Bal Harbour, Surfside area in Florida!
Miami Florida #1 Fine Watches and Jewelry Buyer.
Buy and Sell Cartier, Patek Philippe and Rolex watches in Miami.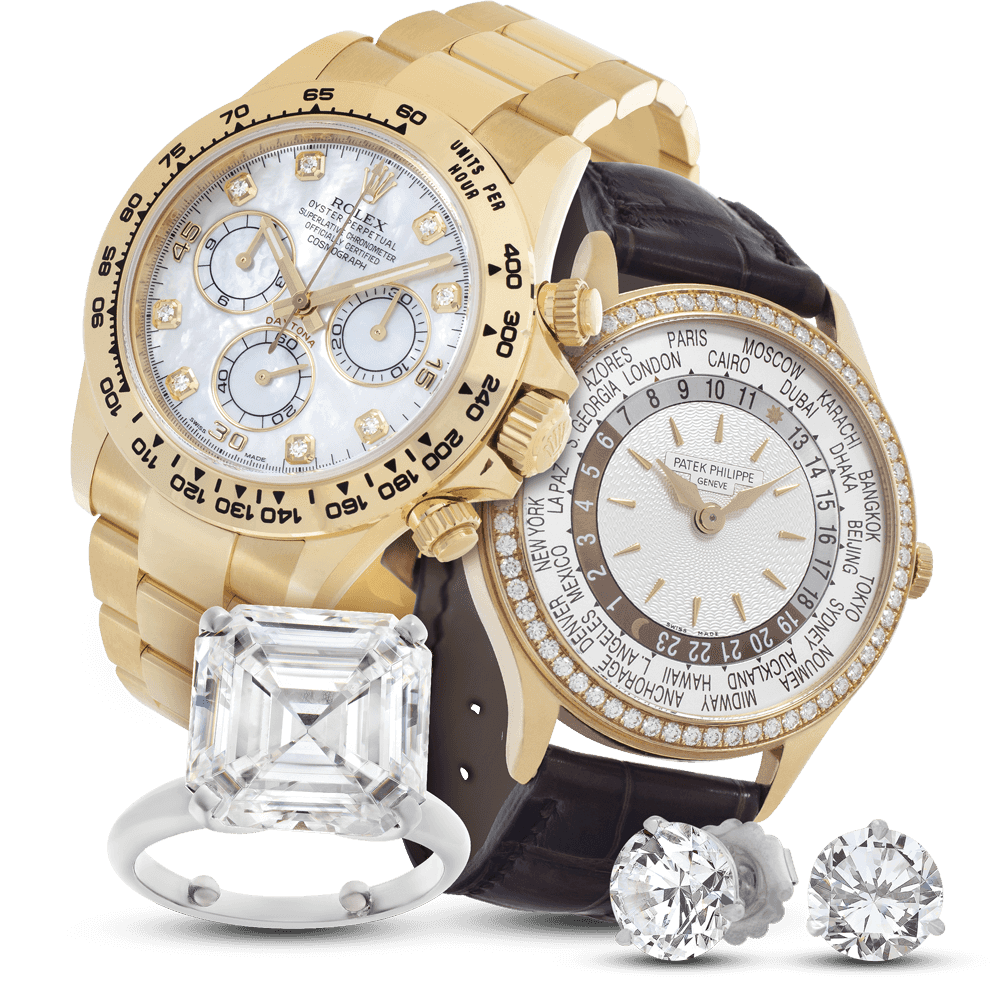 Looking for a place where to sell a used 18k gold Rolex Daytona, a pre-owned Patek Philippe World Time? We are also top buyers of GIA certified diamond rings and jewelry.
Looking to sell luxury jewelry online? We are proud to be your certified pre-owned luxury watch and estate jewelry specialist! Since 1980, we've offered the finest in pre-owned Swiss watches, elegant estate jewelry, as well as buying, selling, trading, consigning, and repairing services. We carry an incredible selection of fine pre-owned fine Swiss watches, as well as luxury watches that have been restored, reconditioned, and certified to look and function just like new. With over 41 years of buying high-end luxury watches, designer jewelry, diamond rings including GIA certified diamonds, and estate jewelry from the public, you can trust sellusyourjewelry.com with authenticity, quality, and professional service. We also sell luxury jewelry online. Top watch buyers of used preowned Rolex, Patek Philippe, Ulysse Nardin, Omega, Audemars Piguet, Cartier, Breitling, Vacheron Constantin, Hublot, Corum, Piaget, IWC, Panerai, Breguet, Jaeger Lecoultre, Franck Muller, Roger Dubuis, and many more watches. Now we have one of the largest selections of pre-owned, unused, worn, new, and used fine watches, reconditioned luxury watches, and vintage watches in the world. Our eclectic inventory where we sell luxury jewelry online does not stop at fine watches, but we also are the largest buyers and most reputable source for one-of-a-kind estate jewelry, designer jewelry, antique jewelry, including diamonds of all shapes and sizes. Sell luxury jewelry online like your Van Cleef & Arpels jewelry, Cartier jewelry, Bulgari jewelry, David Yurman jewelry, Chopard jewelry, Tiffany and Co Jewelry, and Roberto Coin jewelry to Sell Us Your Jewelry; located near Aventura, Brickell Ave, and Fort Lauderdale. We also buy nondesigner jewelry, leaving us with estate jewelry pieces that are all unique and won't be found anywhere else.
Why Sell Us Your Jewelry?
Sell Us Your Jewelry began to distinguish itself from other dealers through its meticulous restoration of watches, encouraging customer service, and ability to reach customers conveniently in Dallas, Boston, Chicago, Philadelphia, Los Angeles, Washington DC, Cleveland Ohio, New York, Las Vegas, California, Hartford Connecticut, and the rest of the United States. Sell luxury jewelry online today, we are recognized not only in South Florida but around the world as the #1 jewelry buyer, Sell Us Your Jewelry.
Sell your used preowned  Rolex  Cartier  Patek Philippe watch to Sell Us Your Jewelry
Questions? Talk To A Specialist
Telephone 9am-6pm EST, Monday through Saturday.
Out recent reviews
LEE BYRD
June 25 2022. We had the most fabulous experience at Gray and Sons. We met with Viktoria and she was the most helpful, professional, knowledgeable, lovely and gracious person. My husband bought me the most beautiful Rolex and she knew everything about the brand and more. She made our experience so wonderful that we cannot wait to come back to see her and purchase something again. She could not be more lovely, friendly and proficient in her field. Viktoria is amazing at her craft and job. She is talented. Gray and sons was a beautiful store everyone who work there was so professional and helpful and gracious. Thank you. Byrds
m reddy
Thank you for the excellent service and fast turnaround
Prod Revenge
Came to Gray and Sons to polish my jewelry, Viktoria and Camila were super sweet and assisted me with the process! Highly recommend!Best place to buy, sell or repair.
Mel V
Walked in today and they helped repair my watch promptly, great service!!
Richard
I don't usually write reviews but I had such a great experience purchasing a pre owned Rolex with help from Claudine, that I felt obliged to write a review. The price was fair and also received a fair price in trade on my Rolex. It was a pleasure to do business with her and if I ever purchase another Rolex I now know where to go !
Christian Thun
Claudine and Keith are great! Best watches and best prices! Thank you once again. Merci Claudine. Christian "The Hurricane" Thun
Maryna Rotar
Gray and Sons is an amazing place to buy very unique and special jewelry. Came in to look for a gift and found it. Viktoria assisted me all the way, she is very professional and I received a best service!Planning to buy a Rolex Datejust 2 tone for me next month.If you are looking to purchase, come to Gray and Sons and ask for VIKTORIA! She is the best!
Danny Lewis
Yes I'm very glad to have visited Gray & Sons Inspired Jewelers recently and I have to say after my family and myself owning and operating two jewelry stores in Houston Texas and Webster Texas this world class fine jewelry store really caught my attention not only did they have in very extensive collection of the best fine jewelry available excellent prices they're fine watches in time pieces collection was so extensive it's unbelievable impressive my visit was in in regards to getting an extra link put in my Rolex Submariner stainless and gold watch I thought but the very kind and courteous and professional Antonella Diaz greeted me came out very promptly with the link I thought I needed but extended my band already with their watchmaker that was on site and within minutes not only did I not need that link it would have been $300 my watch was fixed within minutes at no charge and now is very comfortable thanks to to Gray & Son and this nice young lady Antonella Diaz I offered to pay her for helping me so quickly and wonderfully and she refused my money and said if you have time you might put a Google review out there other than that we're just glad to be of service to you thank you and come back soon when we can help you again I was so impressed it is my honor and privilege to write this review for this jewelry establishment this kind of service is definitely world-class and in the jewelry industry it is becoming rare far and few between it reminded me of my family's business back in Webster Texas my mother and I started 40 years ago kudos to Gray & Sons these types of Fine Jewelry establishment should never change I'm a new resident of Surfside Florida and if I ever have any more issues or know anybody who does I will definitely refer to Gray and Son without hesitation keep up the good work thanks again Danny Lewis
Lauren Elmakis
Mr. Gray was able to fix 2 watches in under 2 hours worth several hundred thousand dollars! He saved us a trip to Switzerland which in our opinion was the only available option. If you have high end time pieces, you have to call and visit them, beyond impressed; best of the best!
Top Rolex Buyer in Miami, Palm Beach, Chicago, Fort Lauderdale, & New York!
Stuck on "Where should I sell luxury jewelry online like my Rolex watch?" But can't find a well-known Rolex buyer? A real jeweler who is trusted and experienced in buying Rolex watches. The search has ended; sellusyourjewelry.com is the top Rolex watch buyer in the USA to sell luxury jewelry online to. We are the online buying division of Gray and Sons Jewelers and have been buying modern and vintage Rolex watches since 1980. To sell luxury jewelry online like your used Rolex watch has never been easier. Our 3 step process will save you time and maximize your money. We pay the most for your preowned or used Rolex Submariner, Rolex Skydweller, Rolex Yachtmaster, Rolex Day-date, Rolex Datejust, Rolex Daytona, Rolex Date, Rolex GMT Master, Rolex Explorer, and any other Rolex model. We are known as the top used Rolex watch buyers with a real store located in Miami Beach Florida; just a short drive from Palm Beach, Hollywood, and Coral Gables. Get your free watch quote today and sell luxury jewelry online!
#1 Cartier Watch Buyers
Pondering "Where do I sell luxury jewelry online like my used Cartier watch?". Sellusyourjewelry.com is the best and only answer to that question. We specialize in buying preowned Cartier watches for the most money. Do not just take your modern or vintage Cartier watch to any basic jeweler or pawn shop? Where they do not have the experience or knowledge to evaluate your luxury Cartier watch. Instead, come to Sellusyourjewelry.com and have a Cartier watch specialist guide you through the process and give you more money for your used Cartier Ballon Bleu, Cartier Roadster, Cartier Ronde, Cartier Tank Francaise, Cartier Pasha, Cartier Calibre, Cartier Santos, Cartier Panthere, and many more Cartier models. To sell luxury jewelry online like your like-new or pre-owned Cartier watch should not be a tricky process. We have been buying used Cartier watches for over 40 years. The best part is that we are not hidden in an office building somewhere but you can actually come and visit our luxury showroom in Miami Florida, where we can evaluate your Cartier watch on the same day! See us last we pay more!
Experienced Patek Philippe Watch Buyers
Where would you sell your Rolls Royce? Would you just go to just any used car dealer? Or would you go to the most knowledgeable and experienced dealer in the nation? Simple answer right? Patek Philippe timepieces have been known as the Rolls Royce of the luxury watch world. Now, where do you go when looking to sell luxury jewelry online like your Patek Philippe watch? Don't worry Sellusyourjewelry.com is the simple answer. We are the top buyers for vintage and modern Patek Philippe watches. Our Patek specialist works with you to ensure the highest possible value for your used Patek Philippe. Sellusyourjewelry.com is the biggest Patek Philippe buyer in Miami Beach, Naples, Hallandale, and the rest of the United States. If you are looking to sell luxury jewelry online like your Patek Philippe Nautilus, Aquanaut, Patek Philippe Calatrava, Gondolo, Patek Philippe Ellipse, Neptune, Patek Philippe Twenty 4, and all other Patek Philippe models, come to us your trusted preowned Patek Philippe watch buyer. Our boutique is located right across the world-famous Bal Harbour Shops in Bal Harbour, Florida. No matter where you are in the country we are here for you. Visit us or ship your Patek Philippe watch today to get paid the most cash.
Top GIA Diamond and Engagement Ring Buyer in the USA
Finding where to sell luxury jewelry online like diamonds can be a tricky job, for the most part, many do not know how the process works. So, don't take it to your local pawn shop, where they'll give you a pitiful amount of cash. You want to go to a real store with a real buying reputation that can get you full market value for your GIA diamond ring. Bring your GIA diamond to a top rated GIA diamond buyer like sellusyourjewelry.com. We are the most trusted diamond ring buyers in the industry because of our extensive 40 years of experience buying GIA certified diamonds and diamond rings. We pay top dollar for GIA certified and name brand diamond rings from Cartier, Van Cleef and Arpels, Tiffany, Graff, and Harry Winston. Whether the diamond is mounted or unmounted, we buy all 1/2 carat or bigger center diamond wedding rings. Since we are constantly searching for new GIA certified diamonds, preowned and used diamond rings, 1/2 carat or bigger engagement rings.
Sell Luxury Jewelry Online!
We are willing to beat any offer for your Diamond ring. Our GIA diamond buyer  specialist will evaluate your individual diamond and give you the most cash for your used diamond ring. We buy 1-carat diamonds and above from all over the country including, Miami Florida, West Palm Beach, and Fort Lauderdale. Our physical store is in Surfside Florida, right across from the Bal Harbour Shops in Miami Beach, known as Gray and Sons Jewelers the prestigious pre-owned diamond ring buyer. Come visit Miami Beach and go home with cash!
We Buy Silver, Gold & Precious Metals
The Best Sterling Silver Buyer
Rated A+ by the Better Business Bureau we are the sterling silver buyer with satisfied customers throughout the nation. Our clients include sterling silver and precious metal collectors who come to us when they want to sell a unique vintage sterling silver pattern, antique silver flatware, or sterling tea sets and trays. We take the time to examine, evaluate, and give an accurate value for any sterling silver piece that you want to sell.
Sell Luxury Jewelry Online!
Sell luxury jewelry online or sterling silver is simple for us. As one of the top buyers in the business, we understand the sentimental value of your silver. Sell Us Your Jewelry, Miami's top independent gold and silver dealer, will buy your sterling silver flatware, tea sets, antique silver trays, bullion, and silver coins   as a collection or by individual piece for top dollar. We are confident you will be satisfied with your experience when you decide to sell luxury jewelry online or your sterling silver and precious metals.
See us last! We will offer the best price for the silverware, scrap sterling silver, or silver coins you want to sell.