October 5th, 2023
Sell Audemars Piguet Watches with Confidence: Opt for Sell Us Your Jewelry's Trusted Services
---
Do you own an Audemars piguet watch and want to convert it into cash? The best thing to do is sell Audemars Piguet and deal with reputable Audemars Piguet watch buyers.
Audemars Piguet is positioned as the 7th most esteemed Swiss luxury watch label globally. The brand has garnered a distinguished status in the realm of high-end watchmaking, solidifying its reputation in the domain of haute horlogerie.
The prestige of owning an Audemars Piguet goes far beyond having a beautifully crafted luxury timepiece. An Audemars Piguet on your wrist gives you an aura of sophistication and exclusivity. An Audemars Piguet is sought after by watch enthusiasts, connoisseurs, and collectors worldwide because it is not a mere accessory but an art, a legacy, and a lifestyle.
If you have decided to part with your cherished Andamars Piquest, selling it to the right luxury watch buyer is paramount. There are several Audemars Piguet watch buyers, however, Sell Us Your Jewelry is the best place to sell luxury watches.
You can rely on Sell Us Your Jewelry when searching for a reputable and trustworthy company to sell your prized high-end watches. The company has a team of experts well-versed in horology to ensure a seamless and secure selling process for your high-end luxury watch.
Understanding the Brand - Audemars Piguet
Renowned Swiss watchmaker Audemars Piguet possesses a storied heritage and an enduring imprint on the realm of horology, which pertains to the study of time measurement. The origins of Audemars Piguet trace back to its establishment in 1875, when it was founded by Louis Audemars and Edward Auguste Piguet.
The company was established in Vallée de Joux, a region in Switzerland known for watchmaking. Louis focused on the technical aspect of watchmaking, and Edward oversaw the production and management parts of the business. Their collaboration laid the foundation for the brand's commitment to innovation and craftsmanship.
The creation of the world's first minute-repeating movement in a wristwatch in 1892 was one of Audemars Piguet's early achievements. This innovation established the company as a pioneer in intricate complications. And it has sealed its reputation as a manufacturer of unique timepieces.
Throughout time, Audemars Piguet continued to innovate and create exceptional timepieces. The brand manufactured watches with complex movements, such as perpetual calendars, tourbillons, and minute repeaters, housed in beautiful cases that showed their technical mastery.
By combining traditional craftsmanship and innovation, Audemars Piguet became the foremost leader in haute horlogerie by creating exquisite timepieces.
Audemars Piguet is characterized by its excellent timepieces and contributions to the evolution of luxury watchmaking.
Audemars Piguet timepieces are sought-after by watch enthusiasts and collectors worldwide. Its influence on the watchmaking industry continues to make a mark with its legendary designs and commitment to creativity and craftsmanship.
People opt to invest in an Audemars Piguet for several reasons.
The watch market, though, is also subject to trends and fluctuations.
People opt to invest in an Audemars Piguet for several reasons.
Owning an Andemats Piguet watch holds a special place in the hearts of enthusiasts and collectors. However, there comes a time when an owner would opt to sell my Audemars Piguet watch for various reasons.
Financial Needs
The need for immediate money is the most obvious reason to sell Audemars Piguet watches. Selling a high-value item like a luxury watch can help during a financial crisis.
Rising Value
Savvy investors are continuously monitoring the possible appreciation of certain luxury watch brands. They can then use their Audemars Piguet collection as a valuable asset for financial stability.
Trends and demands
The luxury watch market is also vulnerable to trends and shifts in demand. A particular Audemars Piguet model may surge in popularity because of celebrity endorsements, iconic collaborations, or limited editions. It is wise to sell Audemars Piguet watches during a peak in demand to take advantage of a higher resale value.
An Upgrade
Watch enthusiasts tend to upgrade their collections with the latest editions. Opting to sell my Audemars Piguet watch can fund the purchase of a more intricate or advanced model.
The Space
You may have a vast collection of luxury watches as a watch enthusiast or collector. You may not have enough space to keep all your timepieces. Thus, you may need to sell Audemars Piguet to make room for a new model.
The Upkeep
Maintaining an Audemars Piguet watch is essential for extending its functionality and preserving its visual appeal, while also preventing potential malfunctions. Repair expenses can be substantial, prompting certain owners to consider selling their timepieces as an alternative.
Your decision to "sell my Audemars Piguet watch" is a personal one. Whether it is parting ways with a watch you no longer want or grabbing an opportunity for financial gain, you should learn how to sell luxury watches.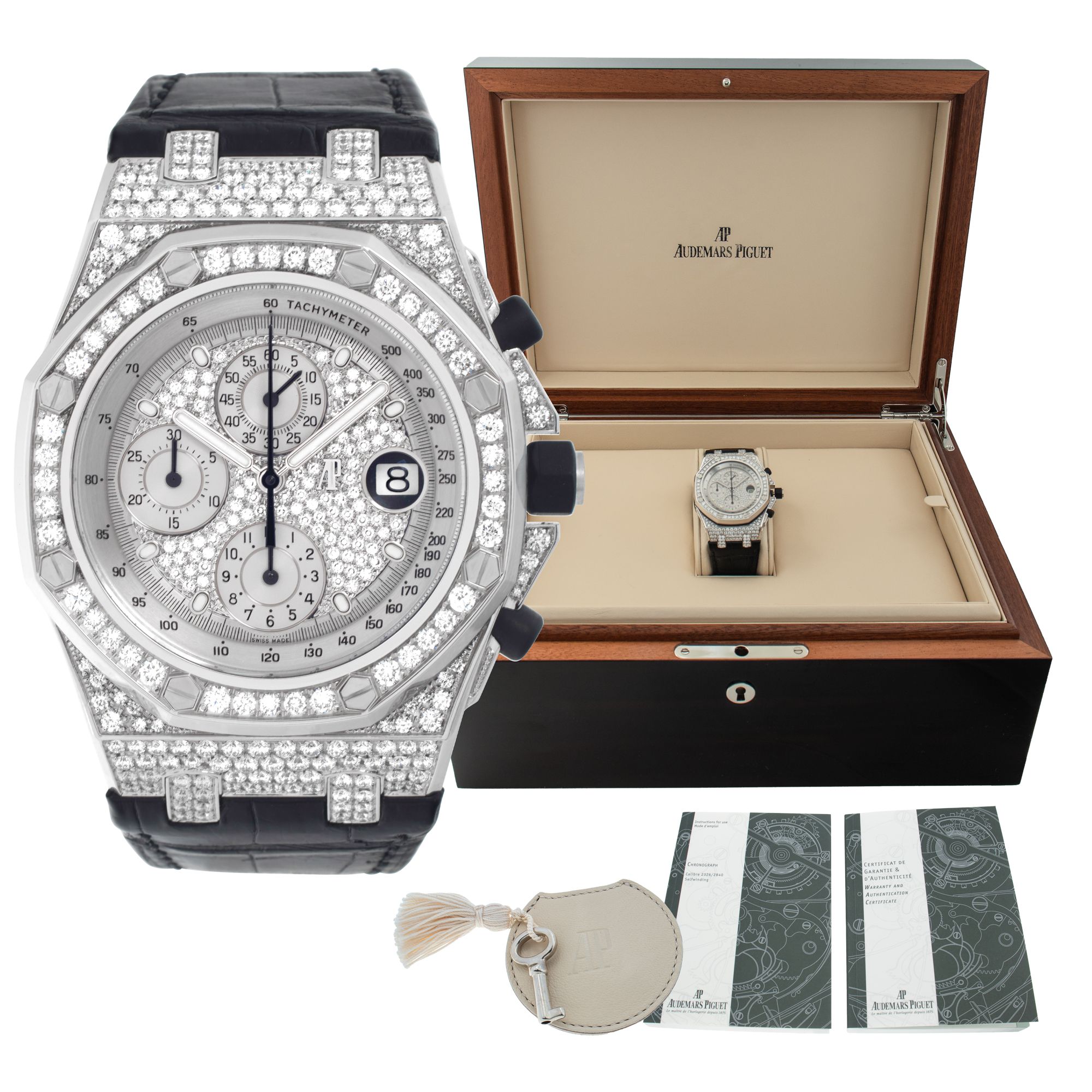 Introducing "Sell Us Your Jewelry"
SellUsYourJewelry.com is the dedicated online purchasing platform for pre-owned luxury watches and luxury jewelry of Gray & Sons Jewelers. Gray & Sons has been buying, trading, and consigning pre-owned luxury watches, designer jewelry, and sterling silver pieces since 1980.
Sell Us Your Jewelry is the best place to sell luxury watches because it is a top-rated platform to sell luxury watches online.
Dissimilar to various online platforms for watch sales, Audemars Piguet buyers, Sell Us Your Jewelry has a physical store. Gray & Sons Jewelers is at 9595 Harding Avenue, Bal Harbour, Florida. Right across from famous Bal Harbour Shops, one of the best luxury shopping malls in the US. Thus, you are dealing with someone other than a faceless online company.
Sell Us Your Jewelry continuously acquires new pre-owned luxury watches, allowing them to have new merchandise for their monthly catalog.
Choosing to Sell Us Your Jewelry as a place where to sell luxury watches, such as your Audemars Piguet, offers a lot of benefits:
Professional Appraisals by Experts in Luxury Timepieces.
Sell Us Your Jewelry specializes in buying and selling luxury watches, specifically Audemars Piguet. The company is equipped with expert and professional appraisers who possess in-depth knowledge of luxury timepieces. These appraisers can thoroughly inspect your Audemars Piguet watch and provide you with the most competitive monetary offer.
Additionally, the company houses a dedicated team of Swiss-trained watchmakers who are experts in their field. These skilled watchmakers can restore your luxury watch to mint condition by carefully revitalizing its original components.
Secure and Transparent Selling Process
The Sell Us Your Jewelry website provides a safe and transparent online selling process complemented by superior customer service. Your information is kept confidential, and the company respects your privacy.
Competitive Offers Based on Market Value
Sell Us Your Jewelry is the best place to sell luxury watches because it is a trusted buyer with vast experience.
The Sell Us Your Jewelry team consists of six in-house Swiss-trained watchmakers who can evaluate your Audemars Piguet timepiece with a trained eye and give you the most money.
Convenient and User-friendly Online Platform
SellUsYourJewelry.com is a user-friendly online platform. To receive a free watch quote, click on the link, provide your information, description of your timepiece, and upload photos of your Audemars Piguet.
Customer Testimonials and Success Stories
Superior customer service and the ability to reach customers nationwide make Sell Us Your Jewelry the top Audemars Piguet watch buyers in Florida and worldwide.
Sell Us Your Jewelry has an A+ rating from the Better Business Bureau for providing a seamless customer selling experience.
Our hassle-free selling process
Sell Us Your Jewelry has a simple and hassle-free selling process.
You can do the entire selling process online or visit the Gray & Sons Jewelers showroom.
Ensuring authenticity and transparency
When you sell Audemars Piguet to Sell Us Your Jewelry, your timepiece undergoes a stringent authentication and verification process. This is to ensure a successful and secure transaction.
Sell Us Your Jewelry is committed to quality, transparency, and expertise to ensure customers a one-of-a-kind selling experience.
Maximizing the Value of Your Watch
Preparing your Audemars Piguet for appraisal ensures a smooth and accurate appraisal.
The warranty card, service records, box and papers, and any relevant paperwork about your watch can increase its value. Any scratches, dents, discoloration, or signs of wear can lower the value of your watch.
Conclusion
Sell Us Your Jewelry is the best place to sell luxury watches. The company has 6 Swiss-trained watchmakers who provide professional appraisals. The selling process is secure and transparent, ensuring you get the most money for your timepiece.
The over 40 years in the business prove the expertise and trustworthiness of Sell Us Your Jewelry. You can conveniently sell luxury watches online or visit the Gray & Sons Jewelers showroom.
Click the link and sell Audemars Piguet at Sell Us Your Jewelry for a secure and transparent selling experience.
Frequently Asked Questions
1. How do I start the selling process with Sell Us Your Jewelry?
Fill out the online form and request a free quote.

2. How is the value of my Audemars Piguet watch determined?
Swiss-trained watchmakers and sales experts will appraise and evaluate your Audemars Piguet to determine its market value.

3. What happens after I receive an offer for my watch?
After receiving an offer, request an Easy Ship box and send your item via registered mail to Sell Us Your Jewelry. After appraisal and inspection, you will receive a final offer. When you agree to the final offer, you will receive payment.

4. How long does it take to receive my payment after accepting the offer?
After accepting the offer, Sell Us Your Jewelry will send payment on the same day via check or wire transfer.

5. What if I change my mind after accepting the offer?
Sell Us Your Jewelry will ship back your timepiece.

6. How do I ensure the authenticity of your appraisal and offer?
Sell Us Your Jewelry and Gray & Sons Jewelers have been in business for over 40 years. The reputation and trustworthiness necessary to ensure a fair appraisal of your timepiece have long been established.

7. Are there any fees or hidden costs involved?
There are no fees or hidden costs.

8. What if my Audemars Piguet watch has missing accessories or documents?
You can still sell your Audemars Piguet. However if you have a box and papers you will receive a higher offer.

9. Can I sell watches other than Audemars Piguet to your company?
You can also sell your Rolex, Omega, Cartier, Patek Philippe, and other luxury watch brands to Sell Us Your Jewelry.

10. What sets Sell Us Your Jewelry apart from other watch buyers?
Sell Us Your Jewelry not only has an online platform but also a showroom. So, you can choose to sell your luxury watches online or face-to-face. Sell Us Your Jewelry offers the most money for your timepieces. See Us Last.

What Do Our Customers Say?
Igor Drumme
Great service, very knowledgeable staff that will help you with sales or service retated questions. I sent my watch to them for complete overhaul and it came back like new! Highly recommended!!! Thank you team for making me feel VIP!
Rhode Labranche
Gloria was awesome! She was very helpful and kind to me. She has great customer service.

Silvia Edgell
Keith and Gloria are great , very knowledgeable and professional. Great experience!

T Warner
Mrs. Gloria is awesome. Great customer service and she made sure we left happy. Thank you Glo

Sammy
I came in the store I do have my jewelry cleaned and they were so lovely. They cleaned it immediately and I didn't know how much inventory they had. I will be back soon to buy something because what they have is gorgeous!!!!!
Jonathan Haber
Greg and Victoria were amazing in helping me find an engagement ring. We're so happy with the beautiful ring and with their customer service. Love them!

Darren M
Anita was wonderful in helping me shop and select a gift. Thank you Anita!
Joseph L
Anita did a great job educating us and thoroughly explaining our options. Great customer service

Denise Gilmore
Gloria was amazing, best customer service experience I've had in over 15yrs with Zales. I want to honor her with greatness she brings to your customers. We were down in spirits and she gifted us with her knowledge and experience. Excellent work
The Purchasing and Consignment Division of Gray & Sons


Be the first to know | SEE OUR CATALOG