July 10th, 2023
Are you looking to Sell | Pawn | Consign your used luxury watch?
---
Looking to sell pawn consign your used luxury watch or watches? The pawning or selling of any high-end item can be tricky, especially if you are looking to get cash for a fine watch. You can pawn your watch and get it back later, but this comes with interest rates, and what if you miss a payment? You can sell your watch to a watch dealer, but of course, that means you can't get it back unless, of course, you buy back your watch. That leaves consignment as a sort of middle ground. Here you are using a watch dealer or jeweler as the middleman in your watch selling transaction. Let's look at each of these options individually and consider the pros and cons of each.
Selling your watch is the most straight forward option when looking to get cash for a luxury item. You can take your watch to a jeweler, a watch dealer, sell it online to a business, or using peer to peer platforms. There are a variety of mediums where you can get your watch appraised and find the most competitive price. We have an entire article explaining the difference between selling to an online dealer or through your own platform, whichever that may be. However, this comes with risks. Come to us last; we pay the MOST!
Sell Preowned Patek Philippe Watches
One point to keep in mind when selling your preowned watch is that you won't have the option to get it back. If you change your mind after a while you would have to buy your watch back, many times for more than what you originally sold it for. Once it is sold to a dealer, the servicers will perform basic maintenance and polishing on your watch to have certified restored and in like-new condition.
Sell your watch with us today: Click Here!
Pawning your preowned fine watch
Pawning is the second most popular option when looking to get cash for their valuables. This is an attractive option for many because you have the opportunity to get your items back. Pawning is when you leave your watch, or other valuables, at a local pawn shop. They lend you an agreed-upon amount of money which you must pay back within a certain amount of time. You will also have to keep in mind interest rates when you paw.
The drawback of pawning a watch, especially a Rolex or Breitling, is that pawnshops do not specialize in watches. A variety of different items enter pawn shops every day. Watch dealers, on the other hand, do specialize in buying watches meaning they will often offer more money for your watch. In short, pawn shops offer less money for high-end watches because they have had to consider the possibility they may never be repaid.
Have you ever looked into consigning your luxury watch?
If you are looking to get some money for your watch but aren't sure how consignment is a very good third option to consider. Consignment is the option where you will get the most money for your timepiece or jewelry. How this works is fairly simple too. Although you get no money upfront your watch dealer will make sure it is looking and running like-new so it can be sold for the best price.
Similar to pawning, the watch dealer will offer a quote for your watch after in-depth analysis. Once you agree upon a price, your watch will be put on a sales rack and marketed to the general public. You receive the money once the watch is sold. When consigning your watch you have to consider that your watch may take a month or two to sell. The plus side is, you generally have the option to take your watch off the market and you get more money for your timepiece.
Click Here to get a Consignment Price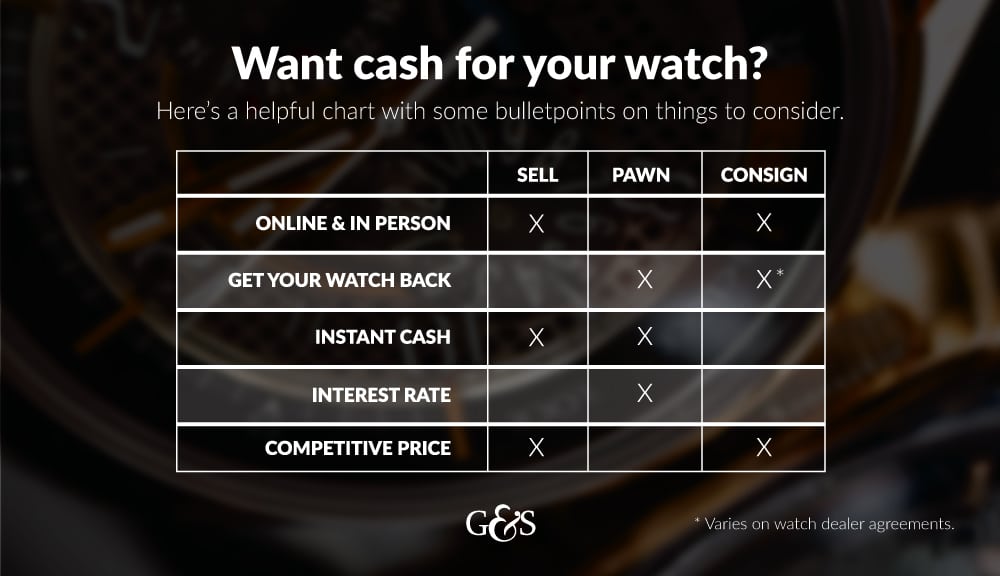 The best selling option for you
Now that you have this information, you can pick the best option for you. If you are looking for quick money, selling is your best option. If you want the best offer for your watch, consignment is the most practical path. Pawnshops are really useful when you are looking to get some cash and you are absolutely positive you will be able to repay within the agreed-upon timeframe.
No matter what path you take with your fine timepiece make sure that you're not rushing into it. Read through your agreements when pawning or consigning your watch. Most importantly consider your options, see multiple jewelry shops and Swiss watch dealers even if you're just looking to sell your watch online.
The Purchasing and Consignment Division of Gray & Sons


Be the first to know | SEE OUR CATALOG