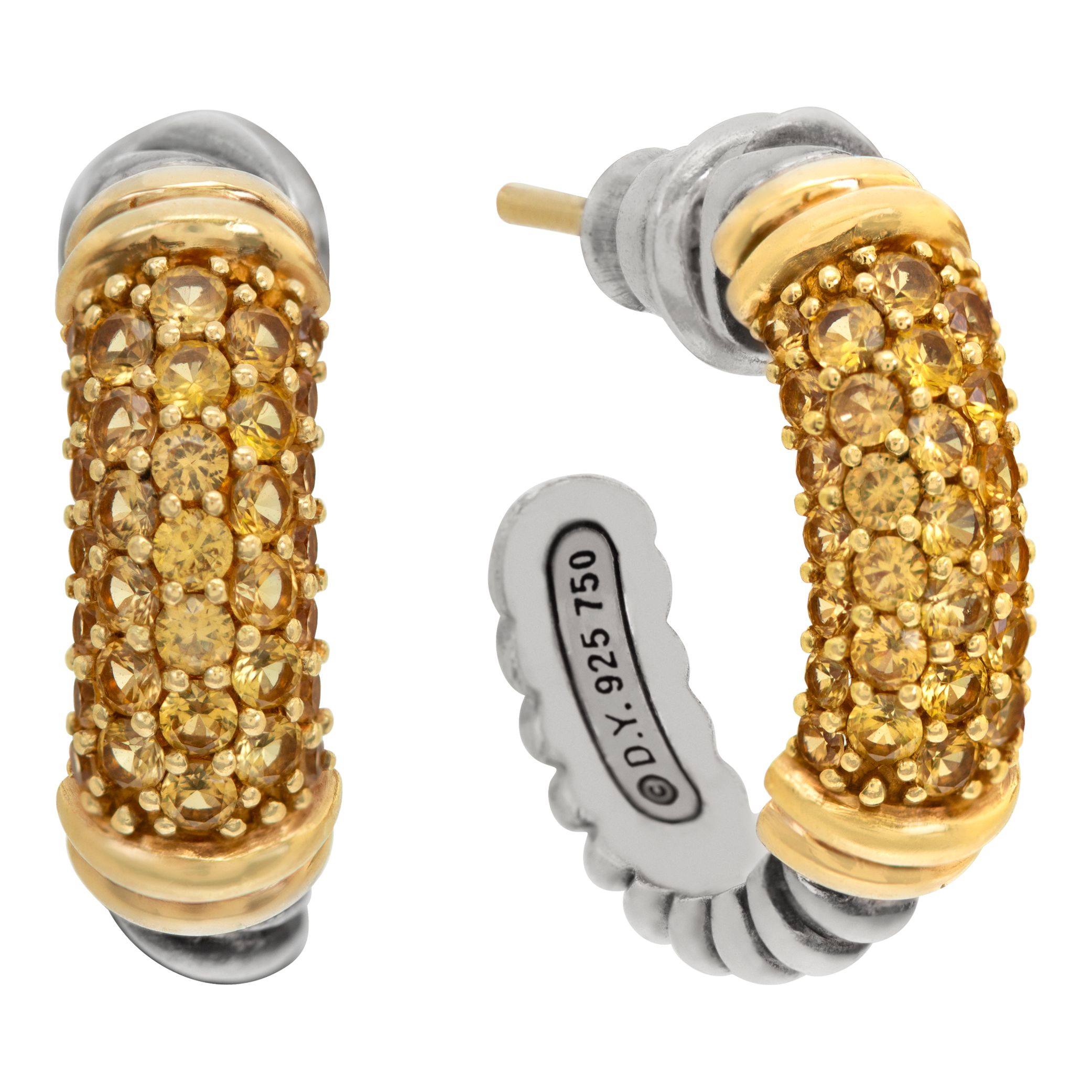 October 5th, 2023
Is it Profitable to Sell David Yurman Jewelry for Resale?
---
David Yurman Jewelry is known for its good resale value due to its reputation as a luxury brand and its popularity among consumers. If you want to sell David Yurman jewelry, remember the resale value relies on several factors, including the style, condition, materials, gems used, and current market demand. The resale value of your David Yurman jewelry is among the top-ranked brands that carry the most resale value.
It is crucial to consider that the resale value of any jewelry item can fluctuate based on where it is sold and prevailing market conditions. Therefore, if you intend to sell David Yurman jewelry near me, doing thorough research and comparing prices across multiple sources is advisable. Understanding how to sell David Yurman jewelry will guide you in making an informed decision and maximizing the value of your piece.
History of David Yurman Jewelry and Quality.
In 1980, David Yurman and his wife, Sybil, established the upscale jewelry company David Yurman in New York City. Sybil, a painter, and David, a sculptor, merged their artistic talents to produce one-of-a-kind jewelry creations that have come to represent their company.
Each David Yurman jewelry is handcrafted by skilled artisans and made from the finest materials, such as sterling silver, 14K and 18K gold, and various gemstones. Care and accuracy go into every David Yurman piece, reflecting the brand's dedication to innovation and quality.
David Yurman Jewelry is highly acclaimed for its original gemstone designs. David Yurman's pieces incorporate a wide range of gemstones, such as Diamonds, and colored gemstones, including Topaz, Amethyst, Blue Topaz, and even Black Onyx. Diamonds used in David Yurman's pieces meet the highest standards of the Gemological Institute of America (GIA). Thus, David Yurman's GIA-certified diamonds are highly desirable pieces contributing to the high resale value of David Yurman jewelry.
The David Yurman signature cable design, a stunning cable motif with a twisted helix pattern, is instantly recognizable. The cable design gets inspiration from maritime ropes representing David Yurman's love for nature and the sea. The cable design has become a hallmark of the brand's identity.
The DY signature cut diamond engagement ring, one of the most desirable diamond cuts, has a brilliant cushion shape. This patented diamond cut technique combines the best elements of a brilliant cut and a cushion cut. This technique is in many of DY's popular designs, including the Petite Albion Ring, The Albion Rings, and many of the brand's most popular bridal designs. David Yurman also has an exquisite Wedding Collection for Men and Women.
David Yurman Jewelry is renowned for its dedication to ethical and environmentally friendly material sourcing. To guarantee that all of the materials used in their jewelry are acquired ethically and ecologically, the firm collaborates with trusted suppliers.
Where to Sell David Yurman Jewelry
When you need to part with your David Yurman jewelry, the following things that come to mind are how to sell David Yurman jewelry and where to sell David Yurman jewelry.
Sell Us Your Jewelry is the best place to sell David Yurman jewelry. We offer the most dollars for your DY earrings, necklaces and chains, rings, pendants, accessories, and watches in all metals (Yellow Gold, White Gold, Sterling Silver, and Rose Gold). We also buy popular mixed metal jewelry (mixing some metal or nonmetal with the main metal).
Some David Yurman mixed metal jewelry includes rings, bracelets, chains, necklaces, and pendants in sterling silver with yellow gold (14K or 18K) and diamonds. Many of the most popular David Yurman designs use mixed metals.
We buy all David Yurman Collections, to name a few:
David Yurman Jewelry with precious and semi precious gemstone designs has higher resale value, but we also buy jewelry without stones.
Frequently Asked Questions (FAQs)
1. Does David Yurman Jewelry hold its resale value well?
Yes, David Yurman Jewelry generally holds its resale value well due to its reputation as a luxury brand and its popularity among consumers subject to normal market conditions.

2. What factors affect the resale value of David Yurman Jewelry?
Factors such as the style and condition of the piece, the materials and gemstones used, and the current market demand influence the resale value of David Yurman Jewelry.

3. How can I determine the condition of my David Yurman Jewelry?
Evaluating the condition of your David Yurman Jewelry involves looking for any signs of wear, scratches, or damage. It's advisable to consult a reputable jeweler for a professional assessment.

4. Should I clean or polish my David Yurman Jewelry before selling it?
You may have your David Yurman Jewelry professionally cleaned and polished by a professional before selling. Cleaning and polishing can enhance its appeal and increase its resale value. However, only some have the same skills, so it is better to sell your piece in its present condition if you are unsure.

5. Where can I sell my David Yurman Jewelry?
You have several options for selling your David Yurman Jewelry, including reputable jewelry dealers, auction houses, online platforms, and consignment stores. Research and compare prices from multiple sources to find the best option.

6. Is it better to sell my David Yurman Jewelry privately or through a dealer?
Selling privately may give you more control over the selling price, but it requires more time and effort. Selling through a reputable dealer can provide convenience and access to a broader market, but they may take a commission or offer a lower price.

7. Does the age of my David Yurman Jewelry affect its resale value?
While age alone does not significantly impact the resale value, certain vintage or rare (discontinued) pieces may have higher demand among collectors, potentially increasing their value.

8. Can I receive the same price I originally paid for my David Yurman Jewelry?
You should expect to receive less than the retail price you paid initially. Resale values are typically lower due to factors such as depreciation, and the profit margin retailers include in the original price.

9. Does the market demand for David Yurman Jewelry fluctuate?
Yes, market demand for specific David Yurman Jewelry styles can vary over time, but in general, there is always a demand for David Yurman jewelry. Staying informed about current trends and popular collections can help you gauge market demand and set realistic resale expectations.

10. Are David Yurman's limited edition pieces more valuable on the resale market?
Limited edition or rare David Yurman pieces often command higher resale prices due to their exclusivity and potential desirability among collectors. However, individual factors such as condition and demand still play a role in determining their resale value.

What Do Our Customers Say?
Joe Peeler
Had the best experience selling them a timepiece of mine and their associate Rich was not only very professional but knowledgeable as well. He made my transaction easy and I look forward to doing more business with Gray & Sons!
Menucha Schwartz
A great experience, highly recommend!
Audrey Villalobos
Cartier said it would take two weeks for my repair Gray and sons did it in two minutes!!!! best service hands-down! thank you Jackie!

Caryn Duboff
I've been doing business with Keith Gray for over 25 years! I have dealt with Viktoria for many things and her kindness and patience has always been wonderful! It's a pleasure at Gray and Sons

Igor Drumme
Great service, very knowledgeable staff that will help you with sales or service retated questions. I sent my watch to them for complete overhaul and it came back like new! Highly recommended!!! Thank you team for making me feel VIP!
Rhode Labranche
Gloria was awesome! She was very helpful and kind to me. She has great customer service.

Silvia Edgell
Keith and Gloria are great , very knowledgeable and professional. Great experience!

T Warner
Mrs. Gloria is awesome. Great customer service and she made sure we left happy. Thank you Glo

Sammy
I came in the store I do have my jewelry cleaned and they were so lovely. They cleaned it immediately and I didn't know how much inventory they had. I will be back soon to buy something because what they have is gorgeous!!!!!
About Us | Sell Us Your Jewelry
The Purchasing and Consignment Division of Gray & Sons


Be the first to know | SEE OUR CATALOG