June 27th, 2023
Sell Cartier Watch
---
Where to sell Cartier watch?
There are many reasons someone may choose to separate from their Cartier watches, whether it's to upgrade to a newer or more exclusive model, fulfill financial needs, or simply change their style.
Wondering; where to sell Cartier watch? Let us be your solution. Based in Miami Beach, Florida, Sell Us Your Jewelry.com is an online division of Gray and Sons Jewelers, a highly trusted jewelry store with 43 years of history specializing in buying, selling, and repairing Cartier watches. We are proud to have thousands of satisfied customers and hundreds of positive reviews to prove it.
With a combined experience of 150 years as Cartier watch buyers, our in-house Swiss-trained watchmakers, polishers, case detailers, and jewelers have the expertise to properly evaluate your Cartier timepiece.
How to Sell Cartier Watch
How to sell my Cartier watch with SellUsYourJewelry, you ask? Here's our selling process made easy for you!
1. Request a Quote: Fill out the Watch Quote Form, providing as much information as possible about your watch's brand, model, and description. Attach photos of it, the purchase invoice, and any appraisals or certificates you have. Include pictures of boxes and papers.
2. Shipping: Once you have received a quote and agreed to sell your watch, we will provide you with an Easy Ship box, packing materials, and a pre-paid label. Simply take the box to the post office and mail it insured.
3. Evaluation: Once we receive your watch, our qualified experts will inspect its condition and authenticity to ensure it matches your provided description.
4. Finalized Offer: Based on the physical evaluation and inspection, we will confirm the offer for your watch. The next step is payment.
5. Payment: Payment for outright sales is typically sent out shortly via check or wire transfer, or via cash if you are selling to us in person. Consignment payments are mailed after the item has been sold to the new owner.
Throughout the process, we understand the importance of privacy and security. That's precisely why we guarantee our clients that their personal details and transactions will remain confidential and secure with us.
Why Choose SellUsYourJewelry.com?
Here are the benefits you'll enjoy when you decide to sell Cartier watch with us:
First, we have unparalleled expertise in luxury watch evaluation and grading. We understand the nuances of each brand and model, so you can trust us to accurately appraise your Cartier watch.
Second, we offer highly competitive offers and immediate payment. We understand you don't want to wait weeks to receive your money, so we offer immediate payment.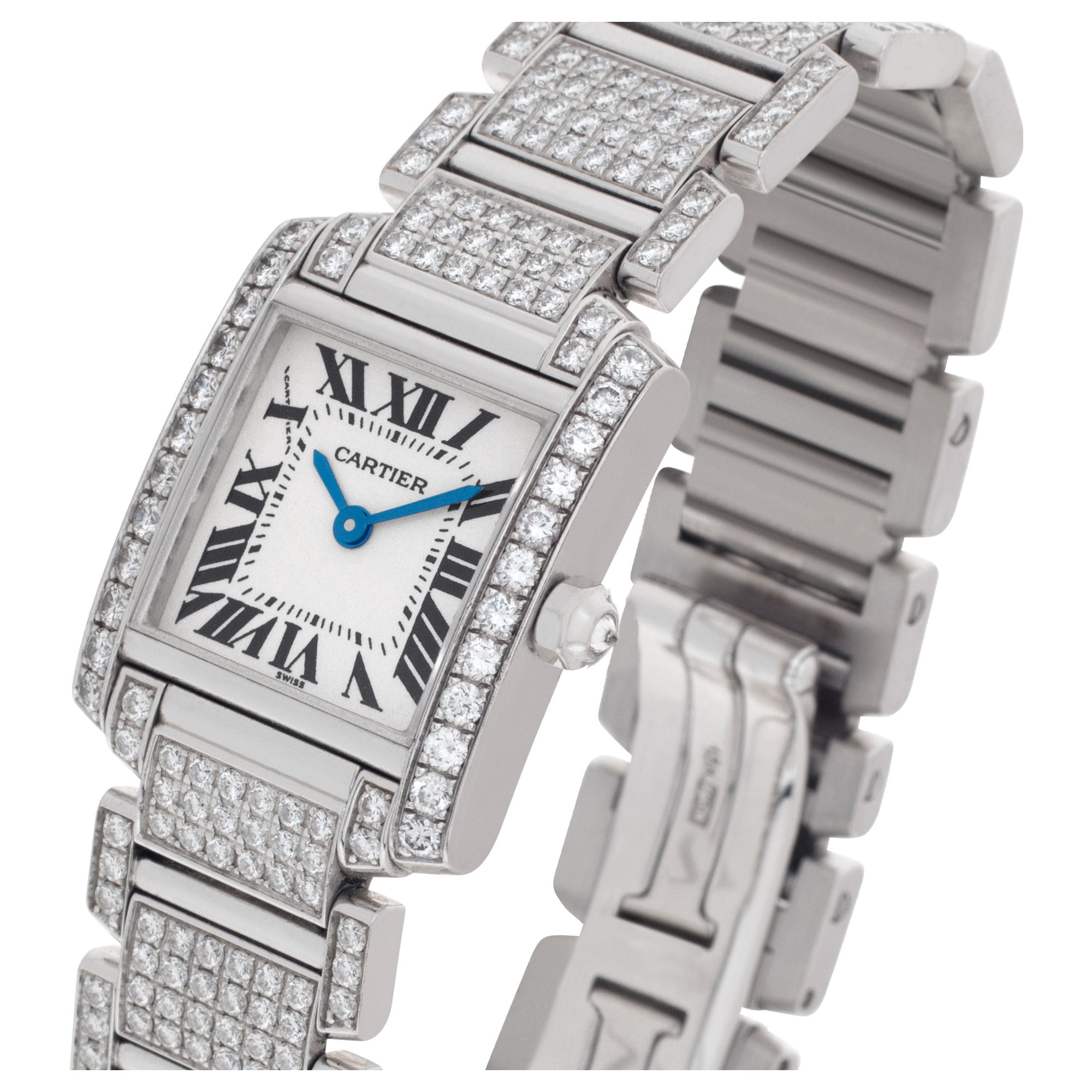 Third, our reputation and customer feedback are a testament to our success. We've received glowing reviews from our contented customers and take pride in the positive image we have developed through the years.
Lastly, our nationwide service and free shipping make it easy for you to sell your Cartier watch from anywhere in the country. Wherever you are, we'll take care of everything from start to finish.
What We Buy
At SellUsYourJewelry, we are interested in buying a wide range of Cartier watches, including some of the brand's most popular collections and models. These include:
Cartier Santos
Ballon Bleu
Tank
Calibre
Baignoire
Ronde
Tortue
Panthere
Santos 100
Roadster
Tank Francaise
Tank Americaine
Tank MC
Regarding the qualities and attributes we seek in a Cartier watch, we place importance on timepieces in good condition, displaying little to no signs of wear and tear, scratches, or damage. However if your watch is in the less than perfect condition we would love to buy it anyways since our in- house experts can do necessary refurbishing and repairs.
Please remember to include original packaging and documentation, including certificates of authenticity if you have them.
If you are contemplating selling a Cartier watch, please don't hesitate to contact us. We'd be happy to provide you with a free quote and answers to all your questions.
Cartier watch Models and History
Cartier is a luxury brand that's been creating stunning watches and jewelry since 1847. They're known for their unique designs and top-notch quality that stands out in the market.
Even though the brand had its ups and downs during the French Revolution, it thrived and opened its first boutique in 1859. Fact: the first-ever Cartier watch, the Santos de Cartier, was made in 1904 and became a massive hit. Another iconic watch design is the Cartier Tank, inspired by a tank from World War I and created in 1917.
Fast forward to today, Cartier watches are still highly valued and always in demand. The brand has more than 200 boutiques all over the globe.
So, if you're ready to sell Cartier watch, you're in for a treat because these watches are sold for premium prices.
At Sell Us Your Jewelry, we're interested in buying all Cartier watches including popular models like; Tank Francaise, Santos, Panthere de Cartier, Tank Louis Cartier, Ballon de Cartier, Coussin de Cartier, Tank Anglaise, Pasha, Calibre, Cougar and more.
Collectors still value these iconic models of Cartier watches, which have stood the test of time.
The value of vintage and rare Cartier watches increases significantly if they are in excellent condition with original parts and packaging. On the other hand, if the watch has been heavily used or modified, it may not be as valuable. It's also important to sell an authentic Cartier watch, not a replica or counterfeit.
Conclusion
So, where to sell Cartier watch? If you're looking for an experienced and trusted Cartier watch buyer, Sell Us Your Jewelry should be your first choice with our competitive prices, quick and convenient process, nationwide services, and commitment to customer satisfaction.
So why wait? Request a quote today and experience these services. Your Cartier watch is waiting to be sold!
FAQs
Q: Where can I sell my Cartier watch near me?
A: Sell Us Your Jewelry is the nearest store to sell your Cartier watch. You can sell it quickly and easily through our website by filling out an online form with all the necessary information about your watch. Sell Us Your Jewelry aims to make the selling process hassle-free so that you can sell your watch from the convenience of your own home.

Q: How much is my Cartier watch worth?
A: Generally, the resale price for Cartier watches can cost anywhere between $4,000 to over $50,000, with the rarest, most intricate, and most complex models being the most expensive.
However, it's best to consult with professional appraisers from SellUsYourJewelry.com, which specializes in Cartier watches, to estimate your watch's value more accurately. We can provide a detailed assessment based on your watch's specific characteristics and current market conditions.
Q: Does Cartier watches have resale value?
A: Yes. Cartier watches have resale value and often command premium prices at auctions due to their rarity, high demand, and reputation as a top jewelry designer and advanced watchmaking laboratory. Crafted with the finest quality materials, they are considered valuable investments and a legacy-worthy addition to any collection.
Q: Can Cartier watch be consigned?
A: Yes, it is possible to consign a Cartier watch with SellUsYourJewelry.com. We specialize in selling luxury watches and jewelry on consignment, which can result in a higher payout compared to other selling options. We provide insurance coverage for the item up to $3.5 million, restore them to mint condition, and we market it through various channels.
Sell Us Your Jewelry covers all associated costs of selling and does not charge any fees or work on a percentage basis, ensuring that the price agreed upon upfront is the price received. Our success rate is high, with over 85% of their merchandise selling within eight to 10 weeks.
If your Cartier watch doesn't sell within 90 days, we can request its return or continue marketing it on your behalf. However, if we think that the price is preventing the item from selling, we may suggest that you lower the price. If you agree, the item will be offered at a clearance price to increase its selling chances and help you return your investment.
Q: Can I trade in my Cartier watch?
A: Yes, you can trade in your Cartier watch. Sell Us Your Jewelry accepts trades for Cartier watches. If you are interested in trading your Cartier watch for another watch or jewelry item in our inventory, simply fill out the preliminary online quote form and include the item you want to purchase in the notes.
Q: How often does a Cartier watch need to be serviced?
A: Cartier watch experts recommend that watches be serviced every five years. This service includes disassembling, cleaning the case and bracelet, refurbishing the movement, checking it, and finally assembling the parts together. Regularly cleaning and servicing your watch is necessary to get it a higher value when you decide to sell Cartier watch. However we buy all watches even if they require maintenance, refurbishing or repair. We buy Cartier watches AS-IS.
Q: Can you sell a Cartier watch without papers?
A: Yes, you can sell Cartier watch with SellUsYourJewelry.com without the papers or certifications of its authenticity. You can trust our team of expert jewelers to identify genuine Cartier watches even without them. However, do know that Cartier watches with their original box and documents can help establish the watch's origin and increase its value.

Q: How long does the process take when I sell a Cartier watch?
A: Upon submission of the form on our platform expect us to contact you within 48 hours to initiate a pricing discussion and to receive a preliminary quote. If the quote is acceptable to you you will receive an Easy Shipbox to mail the watch in. When we receive your watch, it will be inspected and the offer will be finalized. Payment will follow shortly.
You can choose to either sell a Cartier watch immediately to us or put it into consignment.
The Purchasing and Consignment Division of Gray & Sons


Be the first to know | SEE OUR CATALOG