March 30th, 2023
Sell David Yurman Rings | #1 David Yurman Buyer
---
About US
Sell David Yurman Rings
How to Sell David Yurman Rings
Whenever the thought of selling expensive jewelry comes to mind, people can get quite intimidated by it. The reason behind this simply being the overly complicated procedures, extensive paperwork, hidden clauses, and whatnot that is usually associated with selling expensive jewelry. This is the case with most of the jewelers, except Sell Us Your Jewelry. If you've decided to sell David Yurman rings or any other jewelry piece, Sell Us Your Jewelry should be the first buyer you reach out to.
One reason why this should be the case is that we've simplified the process of selling a David Yurman into a few easy steps. So, you don't have to go through an extensive procedure and lengthy paperwork to deal with us. Here's what you need to do:
Visit our website and fill out the David Yurman jewelry quote form, to receive a preliminary quote
If you're happy with the quote, request an Easy Ship Box that contains packaging material
After receiving the box, pack your David Yurman ring and send it to our store located in Miami Beach, Fl.
After a thorough examination, we can agree on the best price and the money will be immediately transferred to you via your preferred method of payment.
David Yurman Estate Jewelry – Rings
Buying or selling estate, vintage or classic jewelry can be petty tricky. Such jewelry pieces are precious and need to go through a thorough process for their price evaluation. If you own David Yurman estate jewelry then you're in luck as Sell Us You Jewelry has been dealing in it since 1980. We can offer you the best price on your David Yurman ring than any other jeweler on the market
Furthermore, if you have a David Yurman jewelry piece that you feel is damaged and of no use, don't make that call just yet. Sell Us Your Jewelry offers repair and trade services for damaged jewelry pieces and watches. Our professional polishers and in-house Swiss-trained jewelers will make your David Yurman ring look as good as new.
Do David Yurman Rings Hold Value?
Do you own a David Yurman ring that you want to sell? Have you been wondering, whether or not David Yurman jewelry pieces keep their value over the years? It wouldn't be wrong to say that David Yurman jewelry is a prime example of extravagance and grace. This luxury jewelry brand is one of the few who have learned the art of subtle elegance and eternal beauty.
David Yurman rings fetch a good price, depending upon the metal used and the gemstone featured. However, it is important to look for a buyer who truly understands the value of such pieces. There is no other place better than Sell Us You Jewelry when it comes to making quick, secure, and profitable deals on luxury jewelry pieces. We firmly believe that your David Yurman jewelry pieces are worth good pieces, thus let us help you in fetching a good price for them.
Where can I Sell My David Yurman Jewelry – Rings
About US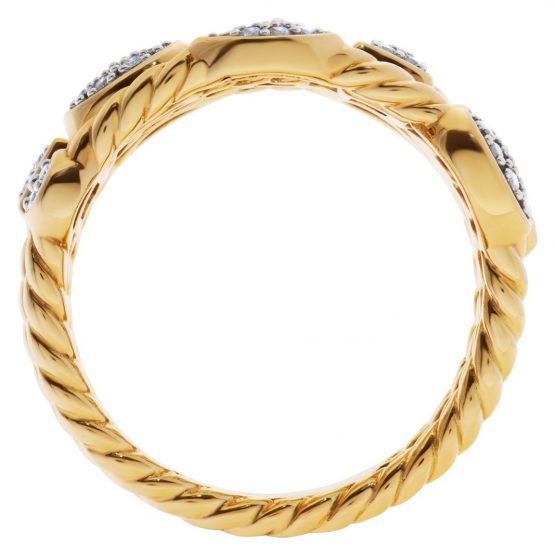 Sell David Yurman Rings
WE ARE INTERESTED IN BUYING
TESTIMONIALS
Alexey Khichenko

4 days ago
Incredible customer service. The manager Victoria did everything perfectly, I highly recommend contacting her. I bought a rolex gmt in perfect condition, at a very good price.
Mark Cecil

a year ago
I have sold two watches to Gray and Sons and bought one. Each time they went above and beyond my expectations. These guys are beyond trustworthy. I can't say enough good about them.
Irene Sharp

2 months ago
Amazing service, great selection of inventory! Friendly staff and welcoming environment. Thank Viktoria and Natalia.
Rich was so helpful in helping me find a necklace for someone special this past holidays on super short notice. exceeding my expectations. They get the job done!
Thank you!
Jason B

a year ago
I found a grey watch at a great price. More importantly the level of personalized service Viktoria provided made the difference. Her knowledge of the watch and assistance with my questions as well as details I hadn't considered were excellent. Five stars all around. I highly recommend Gray and Sons!
Ally Kutner

4 months ago
My fiancé and I went to Gray & Sons to transform my grandmother's stone (on an earring) into an engagement ring. They really took the time to listen to what I envisioned my ring to look like and then custom made my dream into reality. It is so beautiful. I look forward to wearing it forever. I cannot thank you enough. I highly recommend Gray & Sons. The quality of their work is beyond compare. Claudine is the best! She really knows her craft and goes above and beyond to ensure that the end product is exactly what you wanted, or in my case, better than I imagined.
HAVE QUESTIONS?
Our highly trained specialists, coupled with our international sales reach,
allow us to offer the very best prices for your jewelry.
Visit Us
9595 Harding Avenue,
Bal Harbour Florida 33154
Call Us
tel:305.770.6955
fax:305 865 9666
Email Us
About Us | Sell Us Your Jewelry
The Purchasing and Consignment Division of Gray & Sons


Be the first to know | SEE OUR CATALOG