August 8th, 2023
Sell Diamonds Coral Gables, Miami, Florida
---
If you are looking to sell diamonds Coral Gables Actually, there are certain jewelry pieces you can't just put away, and in the same vein, there are other several other pieces of jewelry you can't do without. However, it is quite humanly reasonable that you get tired of a piece of diamond jewelry, and all such jewelry does, is idle around accumulating dust.
In many cases you find yourself looking to sell your jewelry for extra cash, or you find yourself wanting to upgrade a trade to bigger diamonds. Whatever reason that might prompt you to sell, trade, or consign your jewelry, the best place to do so is sellusyourjewelry.com the top diamond buyers in Coral Gables.
Here at Sell Us Your Jewelry, we specialize in buying and selling of fine estate jewelry and diamonds. We buy loose diamonds, GIA certified diamonds, diamond rings, eternity rings, wedding rings, luxury watches, and any other gold or diamond jewelry.
Sell Diamonds Coral Gables | Miami
Sell Us Your Jewelry is the best jeweler to sell diamonds Coral Gables for a few reasons.
First, with 40 years of experience; we have a perfect understanding of how valuable your fine jewelry is, and consequently, we already set a network of interested and available buyers in place. That is to say; we can offer you exceptional and the highest possible price for your exquisite diamond jewelry.
Secondly, we are extremely committed to providing the best and utmost customer service. In addition, we have a high understanding of the choice of privacy that some persons might choose to apply when selling their tiffany diamond ring or diamond jewelry, and that is why we offer private appointments in our showroom located in Miami Beach Florida, which is just a short drive from Coral Gables.
In other words, your privacy is untampered with when you are dealing with us at Sell Us Your Jewelry, the buying division of Gray and Sons Jewelers.
Thirdly, our reputation is something we do not joke with. Over the years, we have earned a considerable degree of respect as being one of the most trustworthy jewelry, watch, and diamond buyers in Coral Gables, and the greater Miami area. Our referral statistics and online reviews are unmatchable, as several persons keep recommending us to their friends and family members. Besides, we are a registered and recognized member of the Jewelers of America association, plus a high-profile A+ rating with the Better Business Bureau.
Coral Gables, Miami, Florida includes:
Competitive Top Value Offers – #1 Diamond Buyer
Trustworthy Reputation and 40 years of experience
Unparalleled Customer Service in buying diamonds

Click here for a FREE Diamond Quote!
Coconut Grove Manor, Miami, FL
Baker Homestead, Miami, FL
West Coral Gables, Miami, FL
Coral Way, Miami, FL
Flagami, Miami, FL
Cocoplum, Miami, FL
Gables Estate, Miami, FL
Old Cutler, Miami, FL
Hammocks, Miami, FL
Rivera, Miami, FL
French Country Village, Miami, FL
Golden Gate, Miami, FL
Country Club Coral Gables, Miami, FL
Coconut Grove Center, Miami, FL
Southwest Coconut Grove, Miami, FL
Kings Bay, Miami, FL
Deering Bay, Miami, FL
Flagler, Miami, FL
East Coral Gables, Miami
West Coral Gables, Miami
North Coral Gables, Miami
Sell Diamonds Coral Gables
Sell Diamonds Coral Gables
We Buy All Diamonds, Jewelry, and Luxury Watches
SellUsYourJewelry.com is the top jewelry and diamond buyer. However, our buying scope isn't limited to just estate jewelry alone. Asides being a designer jewelry buyer, we also buy luxury watches, loose diamonds, and GIA certified diamond rings, and so on. Below is a comprehensive list of the things we buy at SellUsYourJewelry.com.
Most Popular Luxury Diamond Jewelry Brands We Buy
Graff
Sell Diamonds Coral Gables, Miami
We pay the most money for jewelry that is signed by Cartier, Bvlgari, Harry Winston, Van Cleef & Arpels, Tiffany and Co, and David Yurman.
Fine Jewelry
Antique Jewelry
Diamond Jewelry
Engagement Rings
Estate Jewelry
Wedding Rings
Gold Jewelry
Designer Jewelry
Diamond Eternity Rings
Vintage Jewelry
Wedding Bands
Platinum Jewelry
How to sell diamonds Coral Gables? Here is how it works!
To Sell Diamonds Coral Gables, wedding ring, diamond studs to us features a very straightforward and simple process.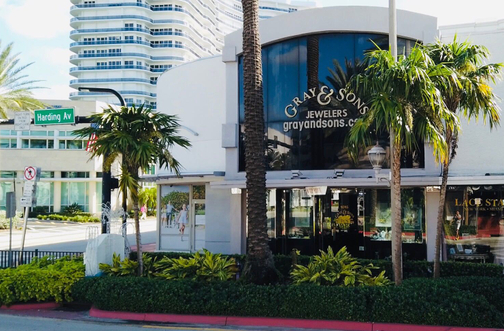 However, irrespective of how you go about it, our ultimate goal is to ensure that your experience with us is pleasant, easy, and enjoyable. We make it easy to Sell Diamonds Coral Gables and diamond jewelry.
At SellUsYourJewelry you can either chose to walk into our showroom near Coral Gables, fill out our simple jewelry quote online form, or give us a call from any place in the United States and talk to one of our diamond buying experts.
When your diamond arrives at our location for a free in-house inspection our gemologist will examine, evaluate, and work with our buying experts to provide you with the most money.
Once we have an agreement, you will receive immediate payment on the spot through bank wire or check. Basically, there is no further need to be shopping your diamond jewelry around, here in Coral Gables, Florida, and even beyond, SellUsYourJewelry.com is the top diamond buyer near you. Visit us today.
We Buy Diamonds in Coral Gables Area
Gold Diamond Jewelry
Platinum Diamond Jewelry
Silver Diamond Jewelry
We Buy Designer Jewelry in Coral Gables, Miami, Florida
Cartier Jewelry
David Yurman Jewelry
Tiffany and Co. Jewelry
Van Cleef and Arpels Jewelry
Chopard Jewelry
Bvlgari Jewelry
Sell Diamonds Coral Gables
Come see us last and that we will pay you more!
Ship in Your Luxury Diamond Today for a FREE In-House Evaluation!
TOP THINGS TO DO IN CORAL GABLES
Your Perfect Day in Coral Gables
Coral Gables is a great place to visit when in Florida. Plan your perfect day and enjoy all of the top things to do in Coral Gables, without missing anything. Below you will find a one-day plan for Coral Gables visitors, filled with the absolute top things to do in Coral Gables. Check them out and enjoy your stay in this beautiful place.
Plan Your Day With The Top Things To Do in Coral Gables
Get In Touch
WEBSITE: www.sellusyourjewelry.com
www.grayandsons.com
CALL: 305-770-6955.
TEXT: Vika at 786-266-4763 for a quick response.
EMAIL: sell@grayandsons.com
Gray and Sons Jewelers specializes in Pre-Owned, Estate,
Vintage, Antique, Heirloom, Used Watches & Jewelry
We Buy, Sell, Trade, Consign and Repair Used and Pre-Owned Watches and Jewelry
Our customers say; "There are no better certified pre-owned Watch Specialists & Jewelers than Gray and Sons Jewelers in all of Florida and US"
Visit www.sellusyourjewelry.com and www.grayandsons.com

The Purchasing and Consignment Division of Gray & Sons


Be the first to know | SEE OUR CATALOG