March 6th, 2023
Selling Your Pre-Owned Luxury Watch? Consider These Things First
---
Do you have a luxury watch that you no longer wear and are considering selling it? Selling your pre-owned luxury watch is a great way to not only clear some clutter but you'll also benefit from some extra cash in your pocket. Given how easy it is to sell luxury goods online these days, it's no wonder that more and more people are looking to the pre-owned watch market to take their unwanted timepieces. Despite how simple it can be to part with pre-owned timepieces these days, it's still important to remember that an informed seller is a savvy seller. So, with that in mind, if you are selling your pre-owned luxury watch, consider these things first.
Here are a few important things to consider before selling a pre-owned watch
Boxes and Papers Can Help Sell A Watch For More
It's not a must to have a watch's original packaging but it can certainly help sell a watch and can even get you better prices. Therefore, if you think you still have your watch's warranty, guarantee, manual, receipt, service records, along with any additional accessories, such as extra straps, spare bracelet links, then it's worth looking around for them. Buyers will feel more comfortable about the watch's authenticity and provenance when it comes with some documentation and packaging. The more complete a pre-owned watch set is, the more likely it will sell for a higher price.
Gather box and papers before you sell your pre-owned watch
Researching Your Watch Is A Must
Telling a potential buyer you have a Rolex watch to sell is significantly different than telling a buyer you have a 1960's Rolex Submariner with a date window and some red text on the dial. Even if you don't know much about the used watch you want to sell, finding out some important details is relatively easy thanks to all the information available on the Internet. The first step is to figure out the reference number of your watch. The reference number can be found on the accompanying paperwork (if you have it). Alternatively, some watches will have the reference number engraved somewhere on the piece. And if it doesn't, then some Google research is in order–just type in a detailed description of your watch into the search bar and you should get plenty of images within the search results. Knowing the reference number can help you figure out the model, type, style, material, approximate production period, and market value of your watch.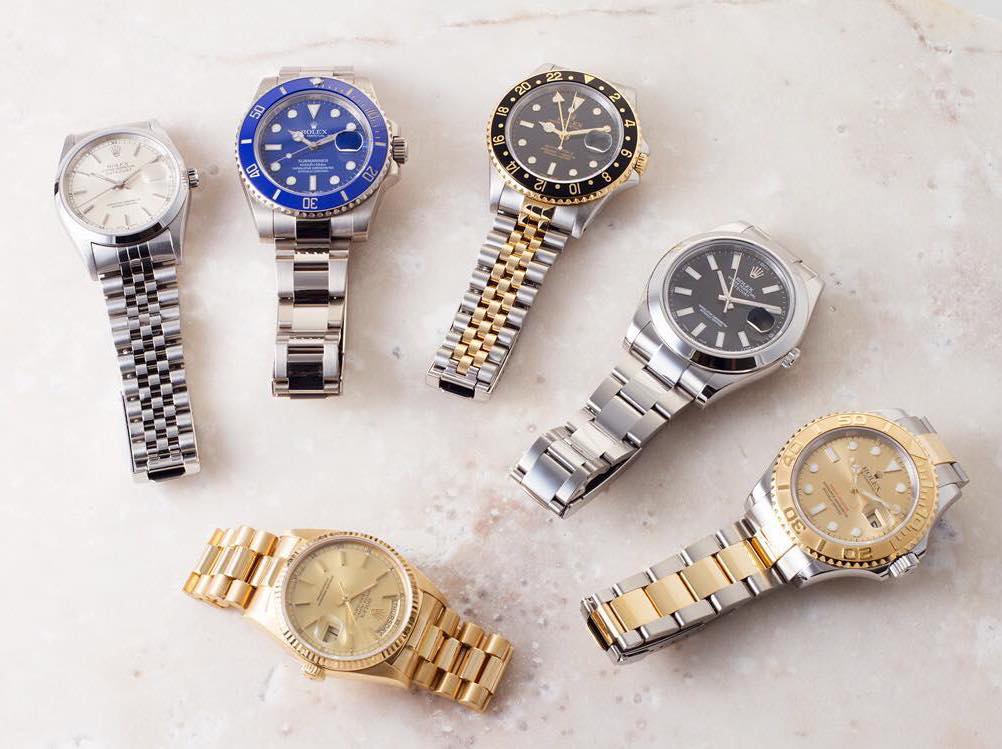 Figure out a watch's reference number before selling it so you can research it
Good Photos Of Your Watch Are A Good Idea
Having good quality pictures of your watch to share with a potential buyer simplifies the selling process. Clear images will show the buyer the exact style and condition of the pre-owned watch being sold in order to quote you a fair price. You should take pictures of the watch from several angles including the front, the back (make sure any markings on the back are clearly shown in the picture, sides, bracelet. If you have any boxes or papers, take pictures of those too. You don't need an expensive camera to get good watch shots; a camera phone, a steady hand, and natural light should be more than enough.
Taking clear photos of your watch from several angles makes it easier for the buyer
You Can Sell, Consign, or Trade In Your Watch
There are several methods to sell a pre-owned watch. These include selling a watch outright, consigning a watch, or trading in a watch for another model; each offering specific advantages. Selling a watch outright for an agreed price is typically the quickest way to get paid. Consigning a watch normally has the highest payout but it can take longer. Finally, trading in a watch can help you save on the purchase of another watch. Decide whether selling, consigning, or trading your watch is best for you.
Determine if selling, consigning, or trading in your watch is the best option for you
Only Sell Your Watch To A Trusted Source
Finally, like any online transaction, it's always important to go with a trusted source. A specialized dealer that has been in the business of buying (and selling) pre-owned luxury watches for a long time has the required knowledge to deal with these particular goods and a reputation to protect. What's more, they have the infrastructure in place, such as easy quote requests, simplified shipping procedures, in-house watchmakers for inspections, and quick payment transactions, necessary for buying used timepieces. Therefore, you can expect a safe, secure, fair, and easy transaction if you go with a trusted source specialized in pre-owned fine watches. And if anything goes awry, a trusted dealer will make sure to fix the situation as best as possible because they're in the business of keeping customers happy!
Only sell your pre-owned watch to a source that has longtime experience in fine watches
The Purchasing and Consignment Division of Gray & Sons


Be the first to know | SEE OUR CATALOG