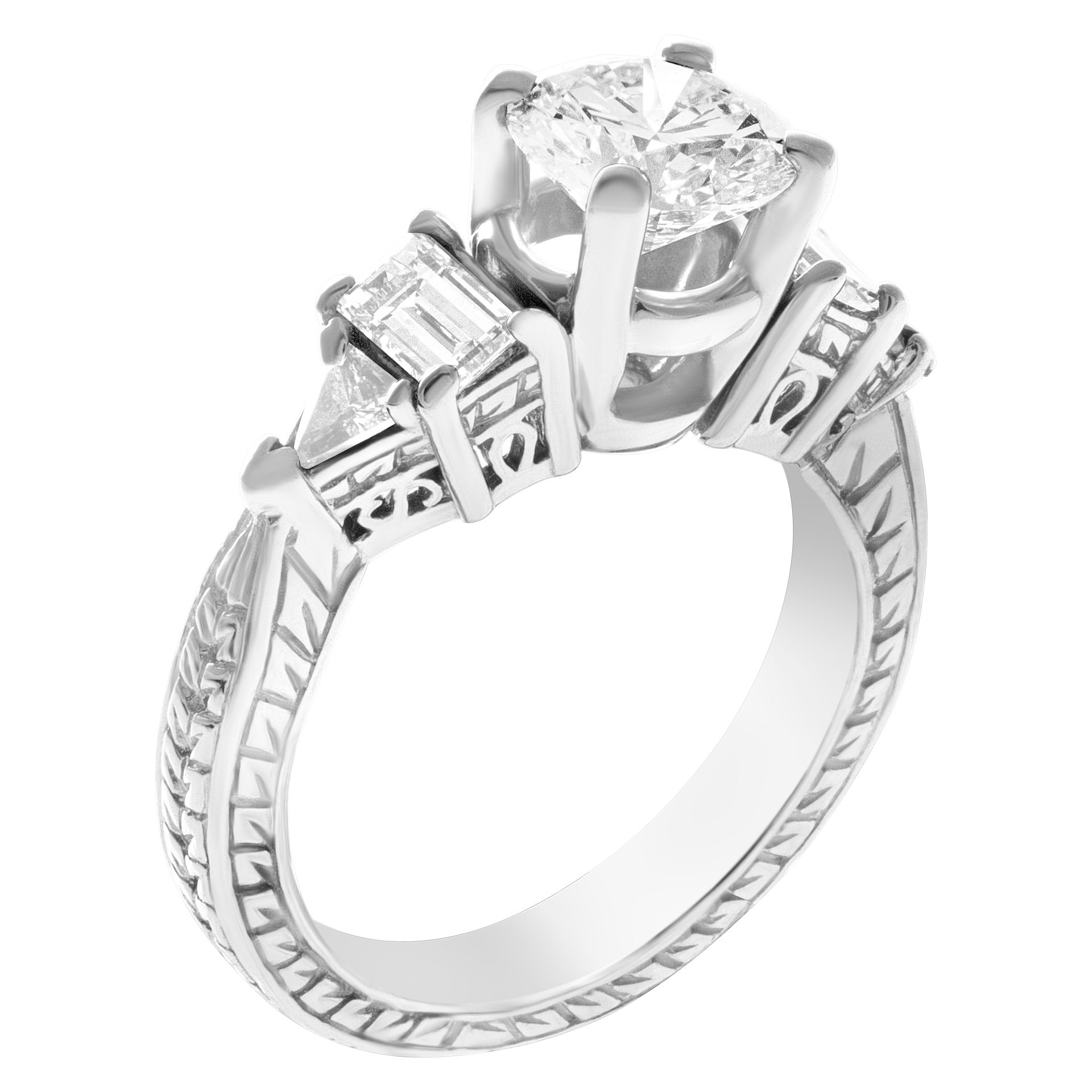 October 5th, 2023
#1 Sunny Isles Engagement Ring Buyer With Seamless Process
---
Sunny Isles Engagement Ring Buyer
You can also sell your branded diamond engagement rings.
When it comes to selling your engagement ring you will come across several options, the most obvious one which usually people opt for is their local pawn shop. But you have to ask yourself, is this the best Sunny Isles engagement ring buyer? The local pawn shops and buyers will not give you a fair quote on your engagement ring and will try to get you to sell it for much less than what it is worth. To avoid such situations, it is important to trust a reputable buyer for selling your precious jewelry items.
Sell Us Your Jewelry is a certified Sunny Isles engagement ring buyer and the largest buyer of designer jewelry, antique jewelry, and diamonds of various shapes and sizes. Therefore, at Sell Us Your Jewelry, we buy all kinds of engagement rings whether they are modern or antique.
We also buy diamond rings in Pinecrest.
How Much is Your Diamond Engagement Ring Worth?
It's not the end of the world if you don't know how much your engagement ring is worth. You can simply bring in your engagement ring at our boutique for a free, pressure-free appraisal. There is no obligation on you to sell it to us afterward or any hidden fee associated with the process. At Sell Us Your Jewelry, we believe in facilitating this entire process and then leaving it completely as your decision, whether or not you want to sell the ring. If you have any doubts you can connect with your local diamond buying specialist and get a second quote.
The assessment of diamond jewelry is tricky and involves several factors. Some of the basic ones being the 4C's (color, clarity, carat, and cut of the stone). If the diamond has any certification like IGI, EGL USA, or GIA, the diamonds are worth more.
Sunny Isles Engagement Ring Buyer
If you want an in-person appointment, feel free to visit our boutique located at 9595 Harding Ave Surfside (Miami Beach) FL 33154, to get an appraisal. Whereas, if you want to sell your ring online, you will first need to fill out a form that will require all the details of the jewelry piece along with some pictures. Our expert will first give you a preliminary quote based on the details you've provided. Note that we the top Sunny Isles engagement ring buyer and you will get excellent value for your precious jewelry items.
Furthermore, if you are happy with the quote you can request an easy-to-ship box that is free of cost for you, to send in the engagement ring for a thorough examination and assessment by our experts. After the assessment, you will be contacted with the final quote or consignment papers. Upon agreement, you will immediately receive cash through the preferred mode of payment be it PayPal, bitcoin, or bank wire, etc.
Sell Diamond Engagement Ring Sunny Isles
Why Should You Choose Sell Us Your Jewelry?
Selling your engagement ring or any type of jewelry is a scary process especially if you don't completely understand how everything works. There's always the fear of underselling a precious engagement ring. With Sell Us Your Jewelry in the picture, you don't have to worry about these things. You don't have to get several quotes to compare or fill in time-consuming and effort-taking forms.
We have simplified the process of selling jewelry by making it more convenient, efficient, and transparent. There are no middlemen or any additional charges in the process, it is a direct transaction between us and the seller.
Furthermore, Sell Us Your Jewelry is an accredited and reputable company that is known not just nationally but internationally. It is the buying division of Gray and Sons Jewelers that is one of the biggest names in the jewelry industry of the United States. If you have found the best Sunny Isles engagement ring buyer, what are you waiting for? Sell your engagement ring today and get instant cash.
THINGS TO DO IN SUNNY ISLES BEACH
Your Perfect Weekend in Sunny Isles Beach
Do you want to spend an amazing weekend in Sunny Isles Beach? You can
fill your Friday, Saturday and Sunday with the top things to do in Sunny Isles Beach.
Enjoy your weekend at one of the best beaches in Florida, visit the top rated
restaurants and luxury shopping places, and much more. Check out the specially
selected top things to do in Sunny Isles Beach and have the best time in paradise.
Top Things To Do In Sunny Isles Beach
​​A weekend in Sunny Isles Beach needs to start the right way. That's why you
should spend your Friday night at one of the most recommended restaurants. Il
Mulino New York is the place to have a magical dinner - perfect for a romantic date
or a special occasion. Il Mulino New York is all about elegance, flawlessness, and
luxury Italian food & wine. Best way to start your amazing weekend!
Fill your Saturday with top things to do in Sunny Isles Beach. This includes a
healthy breakfast at Miami Juice, which will give you energy for further attractions.
Being so close to Bal Harbour Shops, it's a great opportunity to spend a couple of
hours shopping in one of the most luxurious places. You will find there your favorite
designer boutiques, including Balmain, Bottega Veneta, Balenciaga, and Prada. If
you're interested in luxury watches and jewelry, visit the Gray & Sons Jewelers
showroom located next to the luxury Bal Harbour Shops. You can get a perfect piece
of luxury jewelry, or a luxury watch from Cartier, Rolex, Patek Philippe, Audemars
Piguet, Hublot, or Breitling for the best price. If you want to sell your luxury jewelry
and watches for the highest price, visit Sell Us Your Jewelry. Chat with our specialist
Victoria if you have any questions. After all, getting the most cash for your unwanted
watch or buying a luxury watch and jewelry at the lowest price are some of the best
things to do in Sunny Isles Beach.
After a successful shopping in Bal Harbour and before going back to
Sunny Isles Beach, have a fancy lunch or dinner at Makoto and Le Zoo - top rated
restaurants in the area. If you want to walk a little more, visit one of the beautiful
parks in Sunny Isles Beach - Samson Oceanfront Park or Gateway Park.
Sunday is your time to relax, and we really mean it. Finally enjoy some time
at the beach with soft, white sand and crystal clear water. In addition, one of the
absolute top things to do in Sunny Isles Beach is to spend some time at the spa,
because this will take your weekend to the next level. Acqualina Resort & Spa is a
perfect place for a nice, long massage, an amazing facial, cryotherapy, and many
other things that can make you very relaxed and good looking. That's exactly how
you should feel after an amazing weekend filled with the best things to do in Sunny
Isles Beach.
Get In Touch
WEBSITE: www.grayandsons.com
www.sellusyourjewelry.com
CALL: 305-770-6955.
TEXT: Vika at 786-266-4763 for a quick response.
EMAIL: sell@grayandsons.com
Gray and Sons Jewelers specializes in Pre-Owned, Estate,
Vintage, Antique, Heirloom, Used Watches & Jewelry
We Buy, Sell, Trade, Consign and Repair Used and Pre-Owned Watches and Jewelry
Our customers say; "There are no better certified pre-owned Watch Specialists
& Jewelers than Gray and Sons Jewelers in all of Florida and US"
Visit www.grayandsons.com and www.sellusyourjewelry.com

About Us | Sell Us Your Jewelry
The Purchasing and Consignment Division of Gray & Sons


Be the first to know | SEE OUR CATALOG