September 23rd, 2022
Jewelry Appraisal
---
If you have unused and unwanted gold jewelry like bracelets, rings, necklaces, watches and more with or without diamonds or gemstones, you want to find an appraiser you can trust. You want a fast, accurate quote, and a business that looks at you as a valued customer, not just a source of gold and gems.

For 42 years, Gray and Sons jewelers have been Miami's appraiser of choice. Our fabulous showroom is located across the street from the world famous Balharbour Shops in the Surfside neighborhood of Miami Beach.

Now, our consignment and buying division Sellusyourjewelry.com can assist you with the jewelry appraisal whether you are local to our Miami Florida showroom, or anywhere else in the United States. Trust us for thorough, accurate appraisal allowing you to know what your precious pieces are worth.
Miami's Number One Jewelry Appraiser
Sullusyourjewlery.com is powered by one the leading jeweler in the Miami area, Gray and sons. For 40 years, we've welcomed thousands of customers into our Surfside showroom, located across from the Bal Harbour Shops. Every day, we're proud to work with family members and friends of our customers, who have been referred to us because of our honesty, integrity and knowledge.


We appraise the finest luxury brands.
Our jewelry appraisers are experts in the field of luxury, and know the top brands in and out. We appraise fine rings, necklaces, bracelets and more from leading brands such as:
Tiffany & Co.
David Yurman
Van Cleef and Arpels
Cartier
Roberto Coin
Chanel
Piaget
Bulgari
Gucci
And many more
The Experience And Knowledge Of Gray And Sons & Sellusyourjewelry.Com Is Available Nationwide
We are so excited to be able to bring the same level of service and knowledge we provide in our Surfside showroom to every part of the United States. It's quick and easy. Fill out our free quote form, providing as much information about the pieces you'd like appraised. Include clear pictures.

Our expert appraisers will go over the information you provided, then reply as fast as possible with a quote. You can decide whether or not you'd like to sell those pieces to us. If so, the process is safe and easy.
We Can Appraise All Types Of Jewelry
Our appraisal services go far beyond simply weighing and measuring gold. We can provide appraisals on:
Gold,platinum necklaces, earrings, bracelets, bangs
Luxury Watches from Rolex, Pataek Philippe, Cartier, Constantine Vacheron and more
Bracelets with or without gemstones like diamonds and rubies, emeralds and more
Gold class rings
Antique silver
Heirloom Brooches
Much more
In House Experts Can Appraise Your Jewelry Quickly And Accurately
From master jewelers, expert watchmakers to diamond industry insiders, we have the knowledge needed to get you the best appraisal for your jewelry like diamond rings, tennis bracelets and designer watches.

Our Miami Florida based appraisers can take the information you provide and turn around an accurate and quick appraisal for all of your precious jewelry. The more information you provide, the better your quote will be.

If you do decide to sell to us, we'll confirm the quote once we have the piece in hand. We'll then offer you a no-obligation final quote, and you can always opt to have your jewelry shipped back if you decide not to sell.

With Sellusyourjewelry.com, you'll have all the information you need to make the decision thats right for you. We'll give you a complete:
Cash offer price: have cash in hand today!
Consignment price: if it sells for a higher price, you'll get even more money!
Suggested retail price
We Appraise To Re-Sell, Not To Recycle Whenever Possible
We are proud of the fact that most pieces we buy, we resell to other valued customers. Our years of experience in the industry have taught us that nearly every piece has a potential buyer. Whether it's a class ring or a diamond ring; an antique broche or a watch, we'd rather find your piece a new home, rather than simply recycling the jewelry and melting it down.
We Pay More Because Our Customers Are Both Local and Nationwide
Gray And Sons will buy your items for cash and give you more than anybody else because we after polishing and reconditioning your luxury jewelry items, they'll have the widest reach of customers through:

Our World Famous Catalog
Available in print to millions of customers across the country, and available to download online. Filled with gorgeous images of all the pieces we sell, we know we can find a buyer for your jewelry, which is why we are able to pay more.

Our High Traffic Website
We have an amazing reach of over 100,000 unique visitors per month. People all over the world visit our site for the best selection of fine luxury jewelry, like high end watches from Cartier, Rolex, Hublot and more. Or, they shop our selection of designer necklaces, rings and bracelets from top manufacturers like Tiffany & Co., Bulgari, Chanel and more.

Our Award-Winning Show Room
Across the street from one of the hottest luxury shopping destinations in Miami, the famous Balharbour shops in Surfside. Our luxury Miami Beach showroom has been the place to shop the finest in rings, bracelets, watches and more for more than four decades.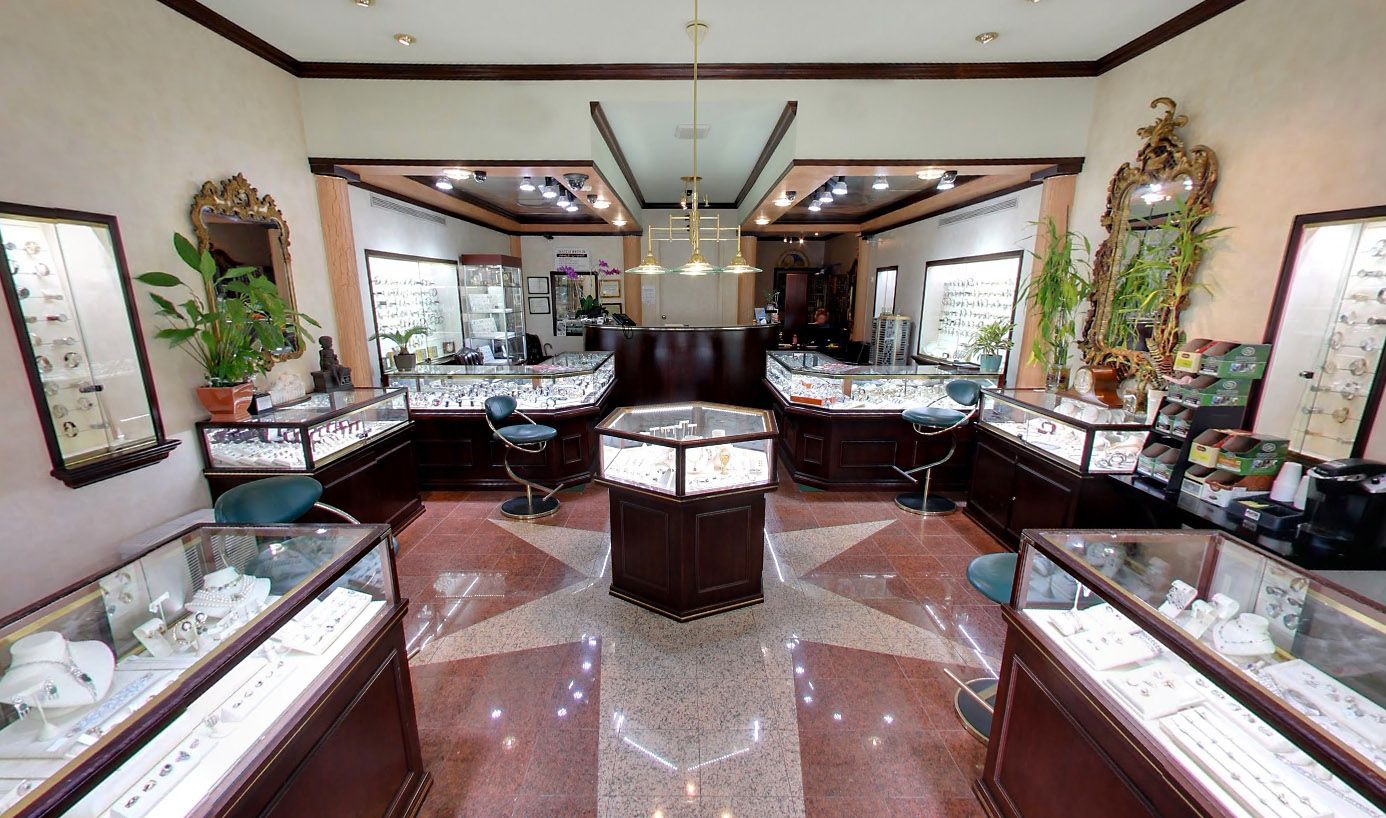 Appraisals For Insurance Purposes
If you aren't looking to sell jewelry, rings, necklaces and other pieces, we can still provide an important service: appraisals for your insurance. Be prepared, get the most accurate information and documentation for your insurer. Bring your watches, and other fine jewelry to us.

Though there's a fee to provide this service, it will be worth it for the peace of mind knowing you'll get the documentation for your insurance company.
Gray & Sons Jewelers & SellUsYourJewelry.com: Miami's & Nation's Number One Service In Jewelry Appraisal and Jewelry Estimates and Quotes.
If you are lucky enough to live in South Florida, you've probably already had the opportunity to visit our landmark Surfside showroom. If you'll be visiting the Miami area, please stop by our showroom.

If you aren't coming to Miami anytime soon, we are still ready to serve you! Simply visit sellusyourjewlery.com, and fill out the quick and easy contact form. Provide as much information as you can about the pieces you'd like appraised and we'll walk you through the process from there. It's that easy!
Looking To Have Your Bracelets, Rings, Watches, Brooches And Other Precious Jewelry Appraised? Start With Sellusyourjewelry.Com!
Gold or platinum, any type of jewelry, broken or intact, brand or non brand, we are more than happy to appraise any item you have. We'll give you honest, accurate appraisal information so you can make the best decision for you.

We've earned the trust of our Miami customers, and we'd love to earn your trust and loyalty as well. Start by filling out our online contact form today!

Sell Us Your Jewelry (SUYJ) is the #1 jewelry buyer in the nation. Headquartered in beautiful Surfside, FL and surrounded by Bel Harbour, Miami and Miami Beach, SUYJ is where to sell a Rolex, especially after getting our impressive Rolex Prices.
SUYJ also has the best jewelry consignment service in the industry. Sell jewelry, for example, sell Tiffany jewelry, estate jewelry, sell engagement ring, and even sell Van Cleef and Arpels after receiving our expert-vetted jewelry quotes.
About Us | Sell Us Your Jewelry
The Purchasing and Consignment Division of Gray & Sons


Be the first to know | SEE OUR CATALOG