August 7th, 2023
Top Jewelry Buyer Aventura, Florida
---
Looking for a jewelry buyer in Aventura? There might be some pieces of jewelry that are lying around in your home or you have a jewelry box full with items you don't use. It's either they were handed down to you, you bought them, got them as gifts or inherited them. Whatever the case may be, we can turn that unused jewelry to extra money in your pocket. Sell your jewelry off to an experienced jewelry buyer Aventura for the most money.
If you're looking for a jewelry buyer Aventura, then SellUsYourJewelry.com, the buying division of Gray & Sons Jewelers is your best bet as we offer the highest offer for your gold, diamond, and platinum jewelry.
We are jewelry buyer Aventura that has a great interest in buying and selling unique and estate jewelry, gold, diamonds and designer jewelry. We buy and sell many luxury jewelry brands like Cartier, Van Cleef, Tiffany and Co, David Yurman, and many more; making sure to set competitive prices as well as a discreet selling. Overall, we offer a great customer experience to all our customer so they always return to do more transactions with us. Our reputation as a leading jewelry buyer Aventura stands out without any doubts.
Best Jewelry Buyer Aventura
Sell Us Your Jewelry is the #1 jeweler to sell your used jewelry and diamonds for a few reasons.
At Gray & Sons Jewelers, we understand the worth of every jewelry piece whether it is antique or vintage. We know how best to price your items and ensure you are selling it for the best price out there. We are #1 jewelry buyer Aventura, very reputable and great in the work we do.
There are a lot of advantages to selling your unwanted jewelry to a specialist jewelry buyer Aventura. It is in fact, the best. Why? This is because a jewelry specialist will know the market value of your item and offer a fair price for it. If you want to sell off a piece of fine jewelry, contact a specialist so that you won't be swindled or convinced to sell your jewelry for a low price. A lot of people have pieces of jewelry without knowing what they're worth.
As aforementioned, we buy all kinds of jewelry as long as they have value. This includes 14k, 18k gold, platinum, diamond, and estate jewelry. The brands we buy include Tiffany & Co, Bulgari, Chopard and so on. In addition to this, we buy gold, sterling silver, and wristwatches of the Swiss brand, Rolex, Cartier, Piaget, Ulysse Nardin, Omega and other luxury watches.
We are a jewelry store to reckon with as we buy and sell jewelry not only in Florida but in all parts of the world. we're #1 jewelry buyer Aventura.
Sell your jewelry today!
Highest Value Offers – #1 Jewelry Buyer Aventura
Reputable Authority and 40 years of experience
Excellent Customer Service in buying estate jewelry

Click here for a FREE Jewelry Quote!
Aventura, FL
Miami Beach, FL
Echo Condos, FL
Miami, FL
Eastern Shores, FL
Prive Island, FL
Gables Estate, FL
William's Island, FL
Aventura Estates, FL
Turnberry Way, FL
Golden Beach, FL
Marina Palms Yacht Club, FL
Sell Diamond Ring in Aventura
We Buy All Fine Jewelry, Art Deco Jewelry, and Luxury Jewelry
Sell Us Your Jewelry is the top jewelry and diamond buyer. However, our buying scope isn't limited to just estate jewelry alone. Asides being a designer jewelry buyer, we also buy luxury watches, loose diamonds, and GIA certified diamond rings, and so on. Below is a comprehensive list of the things we buy at SellUsYourJewelry.com.
Most Popular Luxury Diamond Jewelry Brands We Buy
Tiffany and Co.
Bvlgari
David Yurman
Chopard
Harry Winston
Van Cleef & Arpels
Piaget
Graff
Cartier
We pay the most money for jewelry that is signed by Cartier, Bvlgari, Harry Winston, Van Cleef & Arpels, Tiffany and Co, and David Yurman.
Luxury Jewelry
Wedding Rings
Gold Jewelry
Designer Jewelry
Diamond Jewelry
Estate Jewelry
Vintage Jewelry
Wedding Bands
Platinum Jewelry
How to sell your jewelry? Here is how it works!
Selling your diamond jewelry, wedding ring, diamond studs to us features a very straightforward and simple process.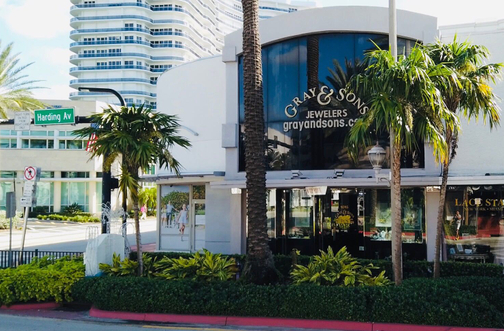 However, irrespective of how you go about it, our ultimate goal is to ensure that your experience with us is pleasant, easy, and enjoyable. We make selling diamonds and diamond jewelry easy.
At SellUsYourJewelry you can either chose to walk into our showroom near Coral Gables, fill out our simple jewelry quote online form, or give us a call from any place in the United States and talk to one of our diamond buying experts.
When your diamond arrives at our location for a free in-house inspection our gemologist will examine, evaluate, and work with our buying experts to provide you with the most money.
Once we have an agreement, you will receive immediate payment on the spot through bank wire or check. Basically, there is no further need to be shopping your diamond jewelry around, here in Coral Gables, Florida, and even beyond, SellUsYourJewelry.com is the top diamond buyer near you. Visit us today.
We Buy Diamonds in the Aventura Area
14k gold or 18k gold Jewelry
Platinum Jewelry
Diamond Jewelry
We Buy Designer Jewelry in Aventura, Florida
Sell your gold jewelry near Aventura
Come see us last and that we will pay you more!
THINGS TO DO IN AVENTURA
Top 3 Things To Do In Aventura
Florida has an endless number of amazing places to offer visitors all year round. While Miami, Fort Lauderdale, Universal Studios, Walt Disney World, or Everglades may be the first to come to mind, there are many other places to see. One of these is Aventura, located in northeastern Miami Dade-County, between Miami and Fort Lauderdale. If you're planning to visit Aventura soon, be sure to read our list of the best things to do in Aventura.
While Aventura is definitely worth a visit to experience the top things to do in Aventura, there are also other exciting destinations nearby. Just a short ride away, you'll find yourself in some of the most amazing spots that Florida has to offer. Check it out below!
Visit Other Places In Florida
Aventura is a great place to visit for many reasons, but also because of its location, which is in the middle of Miami and Fort Lauderdale. It is the perfect excuse to end up in the luxurious city of Miami or in very exclusive Fort Lauderdale. It's better to not leave Florida without seeing the famous South Beach, Biscayne National Park, or Bal Harbour Shops. While you're there, you can take advantage of your trip and check out the Gray & Sons Jewelers showroom located just next to the Bal Harbour Shops. It is the top place to buy, sell, trade, consign, repair, or restore luxury watches and jewelry for the best price.
Visiting the Gray & Sons Jewelers' showroom is one of the top things to do in Aventura.
Best Place To Buy, Sell, Trade, Consign, Repair, Restore Used Watches and Jewelry
Gray & Sons Jewelers and Sell Us Your Jewelry are known for the best prices for used luxury jewelry and watches, modern watches, vintage watches, and diamond watches, which include:
At Gray & Sons Jewelers and Sell Us Your Jewelry you will meet their qualified experts on-site, including jewelers, masters, and master watchmakers providing high expertise, estimates, and quotes. At Sell Us Your Jewelry, they maximize value and pay more than anyone else. If you're interested in buying pre-owned luxury watches and jewelry, check out the best priced luxury watches and jewelry at Gray & Sons Jewelers.
Do you have any questions? Chat with their specialist Victoria.
Get In Touch With Gray & Sons
WEBSITE: www.grayandsons.com
CALL: 305-770-6955.
TEXT: Vika at 786-266-4763 for a quick response.
EMAIL: sell@grayandsons.com
Gray and Sons Jewelers specializes in selling, and repairing Pre-Owned, Estate,
Vintage, Antique, Heirloom, Used Watches & Jewelry
Sell Us Your Jewelry specialized in Buy, Trade, Consign Used and Pre-Owned Watches and Jewelry
Visit www.sellusyourjewelry.com
Their customers say; "There are no better certified pre-owned Watch Specialists & Jewelers than Gray and Sons Jewelers in all of Florida and US"

Ship in Your Luxury Jewelry Today for a FREE In-House Evaluation!

The Purchasing and Consignment Division of Gray & Sons


Be the first to know | SEE OUR CATALOG