April 12th, 2023
Sell Bvlgari Rings in Miami Beach
---
#1 Bvlgari Ring Buyer * Top US Used Bvlgari Ring Seller * #1 used Bvlgari Jewelry inventory * Highest payouts for your Bvlgari Ring * Best Price Guaranteed * Instant Cash * Highly trained Bvlgari Jewelry Staff * #1 Highest Prices for your Bvlgari* Free Valuation

Buy, Sell, Trade, Consign Used Bvlgari Rings with
Gray and Sons Jewelers and www.sellusyourjewlery.com
#1 Bvlgari Jewelry Buyer
How to sell Bvlgari rings for the best price?
Are you thinking of selling your pre-owned Bvlgari ring? Whether you have an urgent need for cash, or there is simply no reason to keep that piece of jewelry, you can sell Bvlgari rings on Sell Us Your Jewelry. It's important to know that the idea of selling luxury rings needs to be met with the highest professionalism and trust. We always put the priority on creating an easy and pleasurable experience for every single client. Make the right choice and sell Bvlgari rings for the best possible price to the most trusted and experienced company – Sell Us Your Jewelry.
How much is your Bvlgari ring worth?
Do you want to sell Bvlgari rings? Finding a buyer who offers a decent price is not the easiest task and can take a lot of your valuable time. Many people end up selling their precious jewels for a very low price and realize it when it's just too late. Make sure you won't become one of them – save yourself some effort and sell smarter. As one of the most reputable jewelry buyers in the US, we will always provide you with the best price for your jewelry on Sell Us Your Jewelry.
Bvlgari is one of the top jewelry brands
Bvlgari rings are a timeless jewelry selection of astonishing beauty from Italy's most renowned craftsmen. Despite beginnings focused on gold and silver, this outstanding high-end jewelry brand is now loved for an eclectic sparkle that connects the classical and modern elements. Only 18k gold, 18k white gold, 18k rose gold, sterling silver, platinum, and stainless steel are used for Bvlgari rings. Depending on the model, they're often combined with diamonds, pearls, turquoise, and other colorful gemstones of the highest quality.
Where can I sell Bvlgari rings?
Trust no one other than Sell Us Your Jewelry with the sale of your luxury jewelry and watches. We are the buying division of Gray & Sons jewelers, with four decades of experience in buying and selling luxury jewelry. We can offer you the best price for your jewelry items which is up to date with the market trades. Ours is a simple and secure selling procedure with no hassle involved.
The first step is to fill out the form available on your website to get a preliminary quote. The form will require you to fill in the details of the item, and make sure you are descriptive to get the best quote. If you're happy with the quote, you can request an easy-to-ship box that will safely and securely deliver the jewelry item to our boutique in Surfside for inspection, without any additional cost to you. After inspection, our experts will give you the best price offer. Upon agreement, the money will be immediately transferred via your preferred mode of payment.
Yes, it is that simple! Wait no more, make the sale today.
About US
Sell Us Your Jewelry is a top-rated Bvlgari ring buyer in the US and the buying division of Gray and Sons – a renowned jewelry company since 1980.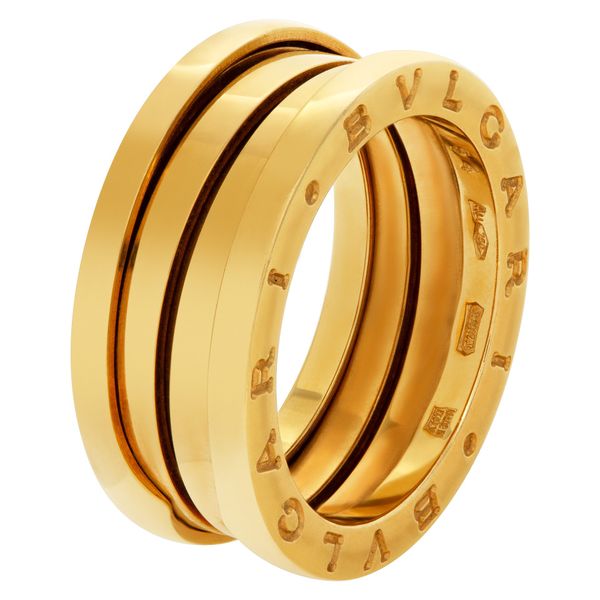 Sell Bvlgari Rings
WE ARE INTERESTED IN BUYING
HOW IT WORKS
TESTIMONIALS
Alexey Khichenko

4 days ago
Incredible customer service. The manager Victoria did everything perfectly, I highly recommend contacting her. I bought a rolex gmt in perfect condition, at a very good price.
Mark Cecil

a year ago
I have sold two watches to Gray and Sons and bought one. Each time they went above and beyond my expectations. These guys are beyond trustworthy. I can't say enough good about them.
Irene Sharp

2 months ago
Amazing service, great selection of inventory! Friendly staff and welcoming environment. Thank Viktoria and Natalia.
Rich was so helpful in helping me find a necklace for someone special this past holidays on super short notice. exceeding my expectations. They get the job done!
Thank you!
Jason B

a year ago
I found a grey watch at a great price. More importantly the level of personalized service Viktoria provided made the difference. Her knowledge of the watch and assistance with my questions as well as details I hadn't considered were excellent. Five stars all around. I highly recommend Gray and Sons!
Ally Kutner

4 months ago
My fiancé and I went to Gray & Sons to transform my grandmother's stone (on an earring) into an engagement ring. They really took the time to listen to what I envisioned my ring to look like and then custom made my dream into reality. It is so beautiful. I look forward to wearing it forever. I cannot thank you enough. I highly recommend Gray & Sons. The quality of their work is beyond compare. Claudine is the best! She really knows her craft and goes above and beyond to ensure that the end product is exactly what you wanted, or in my case, better than I imagined.
HAVE QUESTIONS?
Our highly trained specialists, coupled with our international sales reach,
allow us to offer the very best prices for your jewelry.
Visit Us
Call Us
tel:305.770.6955
fax:305 865 9666
Email Us
TOP THINGS TO DO IN MIAMI BEACH
Everything You Need To Known About Miami Beach
If you've been wondering if Miami Beach is worth your time, the answer is yes! Miami Beach is definitely a place you should visit. Miami Beach is Florida's most glamorous venue and is close to some of the most visited destinations in the state, such as Everglades National Park, Big Cypress National Park and the Florida Keys. The hottest nightclubs, elegant restaurants and endless white beaches are just a small part of the best things to do in Miami Beach.
If you're coming to Miami Beach, check out the list of the best things to do in Miami Beach and enjoy your time in one of the most exciting places in Florida.
List of Top Things To Do in Miami Beach
If you have a piece of luxury jewelry or a luxury watch that you no longer use, visit Sell Us Your Jewelry and get the most cash or your luxury watch or jewelry. Sell Us Your Jewelry is the best place to buy, sell, trade, consign, repair, restore used watches and jewelry in Miami.
Get In Touch
WEBSITE: www.sellusyourjewelry.com
www.grayandsons.com
CALL: 305-770-6955.
TEXT: Vika at 786-266-4763 for a quick response.
EMAIL: sell@grayandsons.com
Gray and Sons Jewelers specializes in Pre-Owned, Estate,
Vintage, Antique, Heirloom, Used Watches & Jewelry
We Buy, Sell, Trade, Consign and Repair Used and Pre-Owned Watches and Jewelry
Our customers say; "There are no better certified pre-owned Watch Specialists & Jewelers than Gray and Sons Jewelers in all of Florida and US"
The Purchasing and Consignment Division of Gray & Sons


Be the first to know | SEE OUR CATALOG