April 12th, 2023
Sell My Panerai Watch in Miami
---
Get the Highest Cash Amount for Panerai Now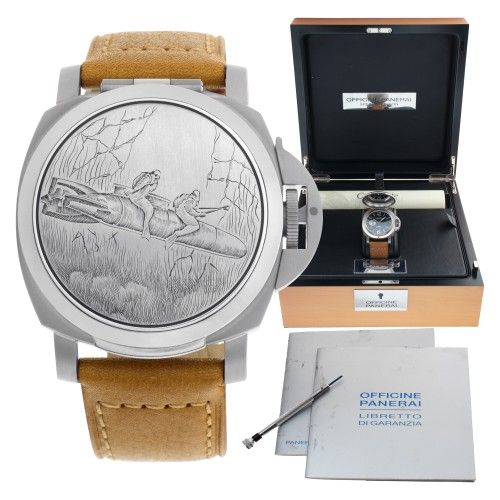 Where do I sell my Panerai watch in Miami?
It is important to know where is the most trusted and authentic place to sell your used Panerai watch in Miami and get the highest amount of money too. A large number of people go to the best and number one luxury watch buyer Gray and Sons Jewelers in Miami. We provide great service, quick results, and instant cash when available. Visit us at our location 9595 Harding Ave Surfside, Florida, across from Bal Harbour Shops / Miami, "the renowned luxury shopping mall". We are available six days a week, Monday to Saturday (10am – 5pm).
Is an appointment necessary before selling my Panerai watch at our physical store Gray And Sons Jewelers in Miami?
There is no need for an appointment before visiting us. Just come in. You are most welcome! If you feel comfortable calling us before visiting, feel free to call us at 1-305-770-6955.
Can a used Panerai watch be sold online?
People also ask:
"Can I sell my used Panerai watch online?" / How can I sell my used Panerai watch online?" / Is it a safe process to sell Panerai watch online?"
Yes. You can sell your used Panerai watch online at Sell Us Your Jewelry. Gray And Sons Jewelers provides a very safe platform to sell your Panerai online. As everything is well insured by Lloyds of London, we are proud to say we have thousands of satisfied customers who sell their high-end and luxury watches online to us.
Just follow a few easy steps online and get the highest amount of your watch.
Click at our Gray And Sons Jewelers buying division www.sellusyourjewelry.com and visit.
Open this short form and fill it out and submit the information.
Give answers to a few questions to our real specialist, Vika. She will reach out to you within 24 hours after your form submission.
Click here and get an easy ship box.
After getting the easy ship box at your doorstep, place your Panerai watch in the box and send it to our store. Our easy ship box is specially made to keep your watch safe and secure.
After receiving your Panerai watch, our watch experts will estimate your watch worth.
Where do I get the highest price for my Panerai watch?
Get The Highest Price Of Panerai Watch From Gray And Sons Jewelers! Our qualified watch experts do their best to give you the highest market price available for your Panerai watch.
If you want a FREE QUOTE, COME SEE US LAST! We are pleased to provide a FREE QUOTE to Panerai watch sellers. We are considered by many as the #1 used Panerai inventory and competitive buyer of Panerai models. We have 5 stars rating by thousands of our clients as the #1 watch buyer in the United States.
Can I get cash for my Panerai watch?
Yes, you can get cash for your Panerai watch.
Gray And Sons Jewelers offer three choices of being paid (i) Cash (ii) Bank wire (iii) Check. You can chose any of your favorites and get the highest payment for your Panerai watch.
Can I consign my used Panerai watch to get more cash?
Yes! Doing consignment to get more money is considered a better option than getting paid on the spot. What you have to do is leave your Panerai watch on consignment to us. We will clean it. We will refurbish it and will resell it. After its reselling, you will get even more cash at the end. Is it a safe way too? Yes! It is entirely safe and remarkable. Having 40+ Years of great experience in this business, we have built a superb network of regular customers who admire us. Likewise, thousands of our repeat clients, who have done business with us www.grayandsons.com, highly recommend us.
Why are pre-owned and vintage Panerai watches so valuable to sell?
Because Panerai has a fascinating history as it was the official supplier of the Royal Italian Navy in the 90s and also had a significant role in WWII. Its rich history is sufficient to desire collectors to want in on the action. When is the best time to sell my Panerai watch? Right Now! Avid divers and Panerai lovers consider Panerai a wise investment. They cherish buying them as each Panerai watch looks great under a suit or is extremely beneficial when diving. Consequently, you will get maximum cash at Gray And Sons Jewelers as it is the best time for you to sell your Panerai watch and get the highest cash.
Can I trade my used Panerai watch?
Yes! Gray And Sons Jewelers buys all models of Panerai watches. No matter how vintage, used, classic, or inherited your Panerai watch is, you will get the highest cash for it at the top-rated luxury watch buyer Gray And Sons Jewelers. People love to buy classic and pre-owned Panerai watches so feel free to sell your watch now.
The second option is also offered! You can exchange your Panerai watch with your beloved item from the Gray And Sons Jewelers showroom.
Popular Panerai watch models contain Luminor and Radiomir wristwatches. For instance:
Panerai Luminor Base Logo PAM0000
Panerai Luminor Marina PAM00104
Panerai Luminor Marina Logo PAM00005
Panerai Luminor Marina Logo PAM00111
Panerai Radiomir 3 Days 47mm PAM00425
Panerai Radiomir Black Seal 3 Days Automatic PAM00388
Panerai Radiomir Black Seal Automatic PAM00287
Say no more wait and Sell your used Panerai watch now to get the highest price instantly. You can sell your Panerai watch at our physical store in Miami or at our premier buying division Sell Us Your Jewelry. To learn about Panerai watches at Gray and Sons Jewelers, visit this link.
Where to contact to sell Panerai Watch?
CALL US: 305-770-6955
TEXT: 786-266-4763
EMAIL: sell@grayandsons.com
WEBSITE: www.sellusyourjewelry.com
Gray and Sons Jewelers specializes in Pre-Owned, Estate, Vintage, Antique, Heirloom, Used Watches & Jewelry
We Buy, Sell, Trade, Consign and Repair Used and Pre-Owned Watches and Jewelry
Our customers say; "There are no better certified pre-owned Watch Specialists & Jewelers than Gray and Sons Jewelers in all of Florida and US"
Visit www.GrayandSons.com
Sell Your Watch and get the best price at www.sellusyourjewelry.com
Check this to
About Us | Sell Us Your Jewelry
The Purchasing and Consignment Division of Gray & Sons


Be the first to know | SEE OUR CATALOG