July 25th, 2023
Sell Roberto Coin Jewelry
---
Sell My Roberto Coin Jewelry
The Roberto Coin Company was founded in Vicenza, Italy in 1977. And is still operating in Vicenza today. But it wasn't until 1996 when the brand was introduced, and within six years the brand climbed its way through the ranks, placing itself in third place in the jewelry world. The Roberto Coin Collections include Pois Moi, Golden Gate, Black Jade, Retro, Gourmette, and more. At SellUsYourJewlery.com we are the top buyer for people looking to sell my Roberto Coin jewelry.
The Pois Moi Collection
Considered one of Roberto Coins most canny collection, in 2014 it was recognized as Best Italian Jewelry in the world. If you own a piece of past Best Italian Jewelry in the world, why sell to an average jeweler who could rip you off? At Sellusyourjewlery.com we have the most experience with dealing with jewelry of any kind. Don't settle for inexperienced, come to us to sell my Roberto Coin Jewelry.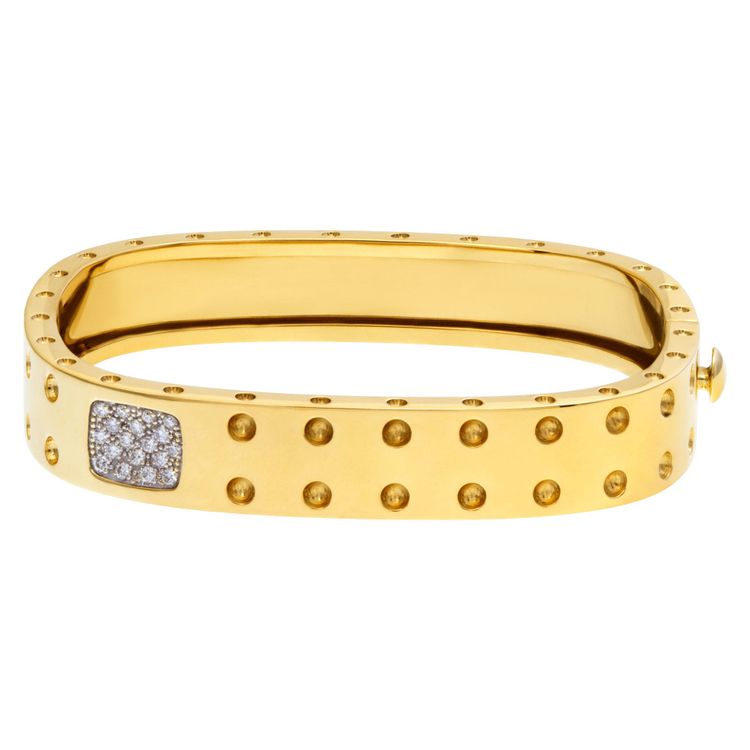 The Golden Gate Collection
The collection consists of rings, neckless, and bracelets based on gold. Hence the name Golden Gate. Most pieces in the collection can be found in either white or yellow gold, all in 18 carats. Sellusyourjewelry.com has Roberto Coin specialists that can help you sell my Roberto Coin Jewelry. Our goal is to help you have an easy selling process and have the highest offer on your Roberto Coin piece.
The Blake Jade Collection
Consisting of jade based jewelry. It is also one of Roberto Coin's most feminine line out of the many other collections in the company. The product must be handled carefully, don't just give it to any pawnshop because it would be an easy process. Pawnshops have no regards for the items they buy. So, when you want to sell your Black Jade piece, or any Roberto Coin jewelry let us at Sellusyourjewlery.com. We promise to give you the maximum of what your piece deserves when you sell my Roberto Coin jewelry.
The Retro Collection
A simpler design collection. There isn't anything to complex about the jewelry, just a simple but eloquent collection of bracelets, rings, necklaces, and earrings. And just like how the Retro isn't complex in design, the same should go to the selling process. At Sellusyourjewelry.com we want to help you sell my Roberto Coin jewelry. When you sell my Robert Coin jewelry to us, we work with you. We want you to be satisfied with what you receive.
The Gourmette Collection
One of the main lines in the Roberto Coin family that oozes love for Italian craftsmanship. Rings, earrings, and bracelets coming in yellow, rose and white gold each in 18 carats. With such precision and craftsmanship, it should be sold at the highest offer possible.
The beauty and prestige behind every Roberto Coin piece goes without saying, but putting a price tag on one when your ready to sell can be rather difficult. We want to help you sell my Roberto Coin jewelry. Your time is valuable and we want to respect that, so don't waste yours by going to a free listing site or even your local jeweler. Our simplified 3 step process is designed with you in mind, putting all the leg work of selling your Roberto coin jewelry in our hands, while all you have to do is trust us to get it done.
Gray and Sons Jewelers has been catering to the fine jewelry industry since 1980. We have become an authority on the evaluation of pre-owned luxury goods, and pride ourselves in our competitive appraisals, coupled with our exemplary customer service. Let us guide you through the process of selling your Roberto Coin jewelry, and you will see why thousands of people in the same situation have left as happy customers.
We are the most trusted jewelry buyers.
Easy 3-Step Process
Sell Us Your Jewelry (SUYJ) is the #1 jewelry buyer in the nation. Headquartered in beautiful Surfside, FL and surrounded by Bel Harbour, Miami and Miami Beach, SUYJ is where to sell a Rolex, especially after getting our impressive Rolex Prices.SUYJ also has the best jewelry consignment service in the industry. Sell jewelry, for example, sell Tiffany jewelry, estate jewelry, sell engagement ring, and even sell Van Cleef and Arpels after receiving our expert-vetted jewelry quotes.
Wondering who buys jewelry, look no further! SellUsYourJewelry.com is the right place for you.
The Purchasing and Consignment Division of Gray & Sons


Be the first to know | SEE OUR CATALOG