July 10th, 2023
#1 Rolex Submariner 16808 Buyer
---
Top Rolex Submariner Buyer in South Florida
Rolex Submariner "Smurf" 116619 18k White Gold Blue Dial 40mm Automatic Watch
Sellusyourjewelry.com is the online buying division for Gray and Sons Jewelers. We are your trusted #1 Rolex Submariner buyer. We buy all Rolex Submariners including 18k yellow gold, two-tone, and stainless steel. Sellusyourjewlery.com is your Rolex Submariner buyer, located 15 miles away from the Ft. Lauderdale International Airport. Our boutique Gray and Sons Jewelers are in Surfside, Florida next to the prestigious Bal Harbour shops.
With over 40 years in buying, selling, trading, and repairing all different types of pre-owned Rolex Submariner we out best all the competition. Our store is equipped with 6 swiss trained master watchmakers, polishers, and jewelers with a combined 150 years of experience who will evaluate your Rolex for purchase.
Customers from states across the country have to submit pictures and descriptions to the top Rolex Submariner buyer in all of South Florida. When we receive these quote requests our sales specialist does research and replies with quotes for out right buying or consigning your Rolex watch.
We recently received a vintage Rolex Submariner in 18k yellow gold reference number 16808. Our Rolex Submariner is from 1985 and comes with a rotating bezel and blue-colored dial. The Submariner has a beautiful 18k yellow gold oyster band and automatic movement. In 2009 Rolex designed a ceramic bezel for the Rolex Submariner to make it more durable and scratch resistant. Today, the Rolex Submariner is still popular and comes in a variety of models.
One of the more popular models is the Rolex Submariner Hulk comes in a beautiful stainless steel case and bracelet. If you are looking for more of a classic look, Rolex has the Rolex Submariner in 18k and stainless steel, which is a great option. Another fantastic style is the Rolex Submariner in 18k yellow gold with a black dial and bezel.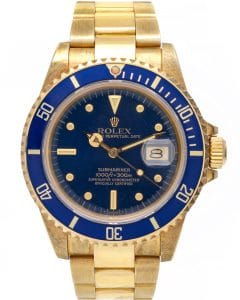 Rolex Submariners we buy:
• Rolex Submariner Date, Black Dial, Yellow Gold Bracelet (116613 LN)
• Rolex Submariner Date, Green Dial, Steel Bracelet, 40mm (116610LV)
• Rolex Submariner Date, Blue Dial, Yellow Gold Bracelet 40mm (116618)
• Rolex Submariner Date, Blue Dial, Gold/Steel Bracelet 40mm (116613LB)
• Rolex Submariner Date, Black Dial, Steel Bracelet 40mm (16610)
In 1910, Rolex proved they were one of the best luxury watch companies when they received the Swiss certificate of chronometric precision, the company continues to be the leading watch brand to this day. Rolex has been known for adding an array of sea-based watches to its vast collection. The Rolex Submariner is another watch within the sea-based collection.
First debuted in 1954 the Submariner, the watch was made in collaboration with professional divers and is water resistant up to 200m. But can be worn by anyone. Since 1980, sellusyourjewelry.com has been buying various pre-owned Rolex models including the Rolex Submariner.
Looking For A Rolex Submariner Buyer Near You?
Where can you sell your Rolex? Look no further than sellusyourjewlery.com. You can trust us to sell your watch for top dollar and walk out of our showroom with real money. Give us a call today or email us to inquire about selling your used watches including the Rolex Submariner buyer. We make it easy to sell your Rolex Submariner watch by going to www.sellusyourjewelry.com/watch-quote/ and filling out our form.
Gray and Sons are the premier places to sell your Rolex Submariner. If you are ever wondering how much to sell my Rolex for or who would buy my broken Rolex, Sell Us Your Jewelry is here to help. Aside from being a Rolex Submariner buyer, we repair Rolex watches in our very own facility. Next to our showroom, we have our repair department where customers can peer in and see our swiss-trained watchmakers repair timepieces in real time! Click here for a FREE quote now!
Sell Us Your Jewelry (SUYJ) is the #1 jewelry buyer in the nation. Headquartered in beautiful Surfside, FL, and surrounded by Bel Harbour, Miami, and Miami Beach, SUYJ is where to sell a Rolex, especially after getting our impressive Rolex Prices.SUYJ also has the best jewelry consignment service in the industry. Sell jewelry, for example, sell Tiffany jewelry, estate jewelry, engagement ring, and even Van Cleef and Arpels after receiving our expert-vetted jewelry quotes.
Who to contact to sell my Rolex Watch?
CALL: 305-770-6955.
TEXT: Vika at 786-266-4763 for a fast response.
EMAIL: sell@grayandsons.com
WEBSITE: www.sellusyourjewelry.com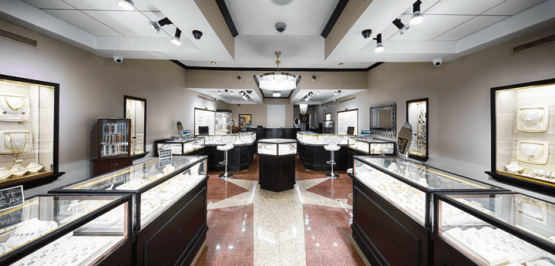 Contact Sell Us Your Jewelry to Sell Your Rolex for the BEST PRICE.
About Us | Sell Us Your Jewelry
The Purchasing and Consignment Division of Gray & Sons


Be the first to know | SEE OUR CATALOG