August 9th, 2023
Sell Jewelry Watch Coral Gables From Your Home
---
If you want to sell jewelry watch Coral Gables, you are at the right place.
There can be several reasons you want to sell your jewelry. You may have some extra pieces, or you are tired of wearing the same watch again and again, or you want to update yourself with the latest model. It can be that you want to go on your dream vacation and can spare some of your jewelry that you never wear. Some of our clients found some investment opportunity and took full advantage of it by using our quick online jewelry acquiring service.
As the official consignment and purchasing wing of Gray & Sons Jewelers, we are the number one online jewelry buyer. We are proudly offering the same reliable and secure services as Gray & Sons Jewelers, which is one of the finest jewelers in ​Coral Gables, Miami.​
You can ​sell diamond​rings, gold jewelry, and expensive watches that you no longer wear and are collecting dust. We understand that jewelry can also have a sentimental value to it, and that is the very reason our process makes it simple for you to exchange it with money.
Why sell Jewelry watch Coral Gables?
One of the most compelling qualities that will force you to choose us is the honesty of our team. Even if you have no idea about the actual market price of your piece, you do not have to worry about it. You are in safe hands and rest assured you won't be ripped off.
Competitive and reasonable offers make us the first choice of clients from all over the US. Our smooth, quick and hassle-free procedure can make the exchange a delightful experience. Furthermore, our reputation speaks for our reliability.
What can you sell jewelry watch Coral Gables to us?
-​ ​Authentic Pre-owned Jewelry
There is a wide range of items that you can sell jewelry watch coral gables to us. We buy authentic antique ornaments as well as modern jewelry and certified diamonds. You can also get quotes for luxury watches, precious metals and pre-owned estate jewelry.
See us last! We pay the most money for jewelry. Check Us Now.
-​ ​Non-Jewelry Gold and Sterling Silver
Not everyone has a taste of high-end vintage jewelry, and sometimes you want to exchange them for cash or some other modern jewelry. You may also want to give up on some of your gold and silver jewelry for other essential affairs of life.
Gold and Silver coins, biscuits, and bars are a good investment. Cutlery, dining sets, serving pieces, and other silverware are also a part of traditional households. But once you want to reap the profits, you need a secure and dependable buyer.
Our committed and honest team offers you the justified price for your gold and silverware at competitive rates. We are especially fond of Tiffany, Gorham, Georg Jensen, Puyforcat, and Barton's silver collection.
-​ ​Diamonds, Precious Metals and Gemstones
Unlike other auction services and online purchasers, we assess the actual value of diamond rings and loose diamonds based on the GIA standards. GIA standards measure the Four Cs in a diamond, i.e. Cut, Clarity, Carat Weight, and Color.
Only professional gemologists can estimate the accurate price of jewelry made with Platinum and gemstones. Our expert jewelers have a keen eye for the authentic and certified pieces and can offer you the maximum amount for your diamonds and gems that you rightfully deserve.
​ ​- Luxury Watches
If you want to sell your watch and want a reasonable price for it, then you cannot just visit the nearest pawn shop or sell it on ebay. The only way you can get a competitive price for your watch is when you find a reliable and trustworthy buyer. An experienced buyer can recognize the actual value of the watch and offer you a fair price.
We have a separate division to evaluate pre-owned watches and provide you with the best quotes in the market. You can exchange modern, or vintage watches with full confidence as our team of evaluators consists of Swiss watch experts and have tremendous experience in luxury watches.
Rolex, Omega, Jacob & Co., Richard Mille, Cartier, IWC, Tag Heuer and Zenith are among the most cash yielding brands that we accept right away. We also accept Hublot, Harry Winston, A. Lange & Söhne and many other luxury watches almost instantly.

Click here for a FREE Watch Quote!
Coconut Grove Manor, Miami, FL
East Coral Gables, Miami
West Coral Gables, Miami, FL
Coral Way, Miami, FL
Flagami, Miami, FL
Cocoplum, Miami, FL
Gables Estate, Miami, FL
Flagler, Miami, FL
Hammocks, Miami, FL
Southwest Coconut Grove, Miami, FL
French Country Village, Miami, FL
Golden Gate, Miami, FL
Country Club Coral Gables, Miami, FL
Coconut Grove Center, Miami, FL
Rivera, Miami, FL
Kings Bay, Miami, FL
Deering Bay, Miami, FL
Old Cutler, Miami, FL
Baker Homestead, Miami, FL
West Coral Gables, Miami
North Coral Gables, Miami
Sell jewelry watch Coral Gables, Miami, Florida
Most Popular Luxury Diamonds Jewelry Brands We Buy
We pay the most money for jewelry in Coral Gables that is signed by Cartier, Bvlgari, Harry Winston, Van Cleef & Arpels, Tiffany and Co, and David Yurman.
Sell jewelry watch in Coral Gables
We are a jewelry buyer, and selling to us features a very straightforward and simple process.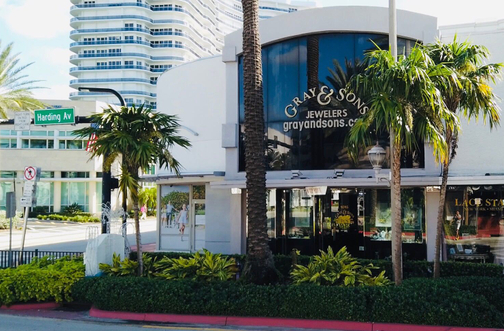 However, irrespective of how you go about it, our ultimate goal is to ensure that your experience with us is pleasant, easy, and enjoyable. We make selling diamonds and diamond jewelry easy.
At SellUsYourJewelry you can either chose to walk into our showroom near Coral Gables, fill out our simple jewelry quote online form, or give us a call from any place in the United States and talk to one of our diamond buying experts.
When your diamond arrives at our location for a free in-house inspection our gemologist will examine, evaluate, and work with our buying experts to provide you with the most money.
Once we have an agreement, you will receive immediate payment on the spot through bank wire or check. Basically, there is no further need to be shopping your diamond jewelry around, here in Coral Gables, Florida, and even beyond, SellUsYourJewelry.com is the top diamond buyer near you. Visit us today.
We Buy Designer Jewelry in Coral Gables, Miami, Florida
Cartier Jewelry
David Yurman Jewelry
Tiffany and Co. Jewelry
Van Cleef and Arpels Jewelry
Chopard Jewelry
Bvlgari Jewelry
Sell jewelry watch Coral Gables
Come see us last and that we will pay you more!
Ship in Your Luxury Diamond Today for a FREE In-House Evaluation!
TOP THINGS TO DO IN CORAL GABLES
Your Perfect Day in Coral Gables
Coral Gables is a great place to visit when in Florida. Plan your perfect day and enjoy all of the top things to do in Coral Gables, without missing anything. Below you will find a one-day plan for Coral Gables visitors, filled with the absolute top things to do in Coral Gables. Check them out and enjoy your stay in this beautiful place.
Plan Your Day With The Top Things To Do in Coral Gables
Get In Touch
WEBSITE: www.sellusyourjewelry.com
www.grayandsons.com
CALL: 305-770-6955.
TEXT: Vika at 786-266-4763 for a quick response.
EMAIL: sell@grayandsons.com
Gray and Sons Jewelers specializes in Pre-Owned, Estate,
Vintage, Antique, Heirloom, Used Watches & Jewelry
We Buy, Sell, Trade, Consign and Repair Used and Pre-Owned Watches and Jewelry
Our customers say; "There are no better certified pre-owned Watch Specialists & Jewelers than Gray and Sons Jewelers in all of Florida and US"
Visit www.sellusyourjewelry.com and www.grayandsons.com

About Us | Sell Us Your Jewelry
The Purchasing and Consignment Division of Gray & Sons


Be the first to know | SEE OUR CATALOG