August 9th, 2023
Best place to sell your jewelry in Florida State
---
Where is the top Luxury Watch and Jewelry Buyer Florida?
Jewelry can have substantial effects on your personality, emotions, and mood. Not only jewelry but watches, amulets, diamond rings, and other precious pieces can also have an emotional background as well. Throughout our lifetime, we buy, wear, and receive jewelry (as a gift from a loved one or as inheritance). It is also tradition to exchange diamond rings, watches, and gold jewelry as a token of love and affection.
However, there are times when you have to forgo these excellent pieces of jewelry and watches for several reasons. The most common grounds of selling jewelry are financial needs, severing ties with someone, and sometimes, to update you with the latest.
Selling your old or spare jewelry can be a troublesome job, especially in the Florida region. The whole affair can be tedious and time-consuming. If you are not careful, you risk your money or precious belongings and may even end up with less cash, then the actual worth of your beloved jewelry. That is why it is important to find an honorable Luxury Watch and Jewelry Buyer Florida.
What makes Gray and Sons the best Luxury Watch and Jewelry Buyer Florida?
Sell Us Your Jewelry is the best jeweler to sell your fine jewelry and diamonds for a few reasons.
Sell Us Your Jewelry covers every aspect of buying your pre-owned jewelry quickly, securely, and without any hassle. Being the official buying division of Gray & Sons, we carry the same reputation, experience, and high-quality customer service. Our policy of honest pricing guarantees customers the best value and satisfaction. We pride ourselves in being top Luxury Watch and Jewelry Buyer Florida.
Updated website (daily) and the diversity in the company's monthly magazine are proof of customer's trust in our services. Sell Us Your Jewelry covers the entire Florida region, including Aventura, Coral Gables, Fort Lauderdale, and Hollywood.
The complete process is seamless and secure, with no long waits. Now you can get the cash you deserve for your jewelry and branded watches from the top Luxury Watch and Jewelry Buyer Florida. Our experts can quote you a fair price trending in the market, and even then, it is entirely your decision to consign with us or sell jewelry, diamonds, watches, or silverware. All of this with no hidden costs in the form of service charges or commissions.
What type of jewelry can you sell to Luxury Watch and Jewelry Buyer Florida?
There is a range of items that you can sell to Sell Us Your Jewelry. You can sell diamonds (loose or in the jewelry) estate jewelry, luxury watches, and precious metals, including gold, silver, and platinum. We buy authentic pre-owned jewelry, certified diamonds, modern and classic watches, precious gemstones, as well as ornaments and heirlooms.
Diamonds, watches, gold and silver designer jewelry is assessed with international standards and extreme care. Expert gemologists and professional watchmakers can recognize each piece's condition and correctly determine its monetary value. Some of the most highly-priced jewelry brands were Harry Winston, Tiffany, and Van Cleef & Arpel. Top luxury time-pieces like Rado, Omega, Rolex, Gucci, Hublot, and Tag Heuer can grab the most amazing offers from our teams.
Our smooth and care-free procedure includes a straightforward three-step approach. The first step is to get a quote from our team. This initial quote is given based on a form filled by the seller online via our website. The second step is to send your item with an easy-ship box with no extra cost. The third and final step is a call from our agent with the last offer based on the original piece itself. As soon as you accept the final offer of the agent, you are ready to get paid as convenient for you.

Click here for a FREE Diamond Quote!
Some Tips to make your Online Selling Experience Better
If you have never sold your pre-owned jewelry or watch online or you want to refine your experience further, here are some tips and tricks:
Make up your mind
You must be absolute in your resolve of selling a particular piece of jewelry. If you are torn apart between letting go and keeping an item, it can become a problem sooner or later. An easy way to resolve such a condition is to consult your friend or a close family member. Another way is to weigh the need for cash with the item itself. Of course, if you are in desperate need of funds, you won't have to worry about this at all. You can also sell a piece of your jewelry and keep the rest as well. This can also be done with an assortment or set of jewelry.
Do some research and find an honorable Luxury Watch and Jewelry Buyer Florida
The selection of a jewelry buyer should be on the basis of your research. After you have made your mind and decided to sell a piece, the next and the essential step is to find a reputed and trustworthy buyer. Several stores claim to be the best and secure on the internet. It is, however, often not the case, and people have to go through horrible experiences. A simple way to choose a suitable buyer is to check for ratings, reviews, and carefully read customer reviews. You can also visit the buyer's website and look for authentic reviews as well.
Adhere to the buyer's guidelines fully
After you have short-listed the jeweler or luxury watch buyer you like and trust, only then can you begin the procedure of selling your item. It is crucial to follow the steps on the website that start with a filling of an online form (e-form) and then send it to the buyer for an initial quote. You can also attach pictures of the item and write about the exact condition of your piece to get a fair price from the buyer.
Have realistic expectations
Online sellers are expecting a lot more than the actual market value of the piece, and when they receive an initial quote, they may get frustrated. You should know that the offered price is according to the market of that brand and that particular model. So always have realistic expectations and do some research about the cost of your well-kept belonging before expecting a specific amount.

Sell Us Your Jewelry doesn't make you go through long and tedious paperwork or online registrations. The simple e-form on the website makes you describe the product in detail and enables our experts to offer you the unmatched and realistic prices for your possessions.
Here, where you can find Luxury Watch and Jewelry Buyer Florida
We Buy All Diamonds, Jewelry, and Luxury Watches
SellUsYourJewelry.com is the top Luxury Watch and Jewelry Buyer Florida. However, our buying scope isn't limited to just estate jewelry alone. Asides being a designer jewelry buyer, we also buy luxury watches, loose diamonds, and GIA certified diamond rings, and so on. Below is a comprehensive list of the things we buy at SellUsYourJewelry.com, the top Luxury Watch and Jewelry Buyer Florida.
What Luxury Watch and Jewelry Buyer Florida Look For
Luxury Watch and Jewelry Buyer Florida pays the most money for jewelry that is signed by Cartier, Bvlgari, Harry Winston, Van Cleef & Arpels, Tiffany and Co, and David Yurman.
Fine Jewelry
Antique Jewelry
Diamond Jewelry
Engagement Rings
Estate Jewelry
Wedding Rings
Gold Jewelry
Designer Jewelry
Diamond Eternity Rings
Vintage Jewelry
Wedding Bands
Platinum Jewelry
How to sell my diamond? Here is how it works!
Selling your diamond jewelry, wedding ring, diamond studs to us features a very straightforward and simple process when you come to the right Luxury Watch and Jewelry Buyer Florida.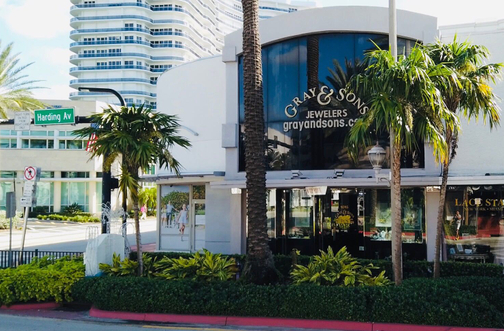 However, irrespective of how you go about it, our ultimate goal is to ensure that your experience with us is pleasant, easy, and enjoyable. We make selling diamonds and diamond jewelry easy.
At Sell Us Your Jewelry you can either chose to walk into our showroom near Coral Gables, fill out our simple jewelry quote online form, or give us a call from any place in the United States and talk to one of our diamond buying experts.
When your diamond arrives at our location for a free in-house inspection our gemologist will examine, evaluate, and work with our buying experts to provide you with the most money.
Once we have an agreement, you will receive immediate payment on the spot through bank wire or check. Basically, there is no further need to be shopping your diamond jewelry around, here in Coral Gables, Florida, and even beyond, SellUsYourJewelry.com is the top Luxury Watch and Jewelry Buyer Florida. Visit us today.
We are Luxury Watch and Jewelry Buyer Florida
Gold Diamond Jewelry
Platinum Diamond Jewelry
Silver Diamond Jewelry
We Are Designer Luxury Watch and Jewelry Buyer Florida
Sell your Diamond Engagement Ring near Coral Gables
Come see us last and that we will pay you more!
Ship in Your Luxury Diamond Today for a FREE In-House Evaluation!

The Purchasing and Consignment Division of Gray & Sons


Be the first to know | SEE OUR CATALOG